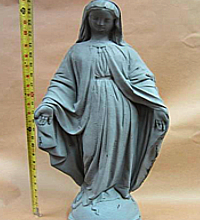 According to the Monterey Park Police Department, police officers responded to a call of a suspicious person in a neighbor's front yard in the 1900 block of Fulton Ave on June 29th at approximately 2:56 a.m. A suspect was seen running from the front porch into a late model Chevy truck and fleeing at a high rate of speed northbound on Fulton Ave.
Officers located the vehicle and contacted the driver and sole occupant. Inside the bed of the truck were two potted Plumeria plants and a statue of the "Virgin Mary" on the rear floorboard. The suspect was arrested for suspicion of receiving stolen property. Follow-up by detectives lead to identifying the owner of the stolen plants, however, detectives are still seeking the owner of the statue of the Virgin Mary, depicted in the photos below. The statue is approximately 25" tall.
It is believed that the suspect may be responsible for approximately 15 thefts in the City of Monterey Park and all the stolen property may have been sold at swap meets.
Cirilo Cebrian (DOB 02-09-59) of Los Angeles has been released on bail.
The Monterey Park Police Department has been investigating numerous thefts of lawn ornaments, statues and potted plants since May 2012.
Individuals with information regarding ownership of the statue may contact Detective Arlene Guevara at 626-307-1428.