If you're new to English Wedding, you may want to subscribe to my RSS feed. Thanks for visiting!
Weddings don't have to cost the earth, and in Angharad from Edible Glitter blog I found a bride who inspires me so much. A truly creative bride-to-be, Angharad offered to share her wedding planning story so far as a guest blog post. This is all about thinking creatively: cast aside what the industry says about weddings, and do something completely 'you'. Little did I know from my initial chat with Angharad on twitter just how much I'd love what you're about to read.
By Angharad

Paul proposed at the beginning of April on a surprise detour to Paris at the end of our holiday in Brussels. He took me to a secluded square in Montmartre and presented me with a beautiful antique opal and diamond ring. Apparently the poor boy was terrified I would say no! He needn't have had any worries on that account – I was absolutely thrilled and still am.
A busy time to plan a wedding!
It's only been a month since we got engaged and yet somehow we have managed to plan most of the details of our September wedding already. This is in part due to the fact that I am in the midst of my university finals and dying to find all possible ways in which to procrastinate, and in part because my mum is a super-organiser who could probably have arranged even the royal wedding in her sleep.
A laid back, informal and creative wedding
Although I love weddings (I can't go to one without weeping with happiness – I'm going to need some seriously waterproof mascara at mine) both Paul and I have a bit of a horror of meringue-dresses, stiff floral arrangements and over-the-top cakes. We knew we wanted our wedding to be a fairly laid-back affair, with the focus on having a good time rather than traditional expectations.
We never set out with a particular budget in mind and have been lucky enough to be able to spend on the things that were important to us, such as the ceremony venue, marquee and car; however, our creative approach to many of the details has inadvertently ended up saving us money.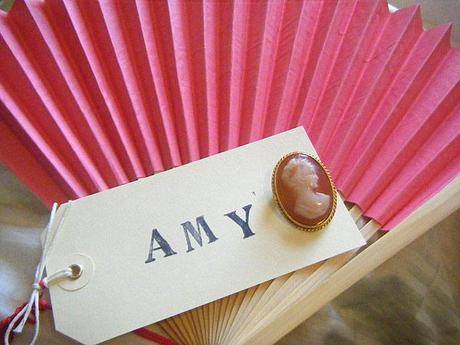 Below are some examples of how we are doing things differently and how being creative really can pay off.
The Dress
I always knew that I wanted a vintage dress, and after browsing various online vintage stores I turned my attentions to eBay, where to my utter surprise I found my dream dress for an incredible £50. An original 1970′s maxi dress, it has exactly the relaxed feel I was looking for whilst remaining feminine and appropriate to a wedding.
The downside of eBay, of course, is that you can't try things on – I am having to have my dress made smaller by a dressmaker friend of a friend, which will bump up the cost a bit. If you are planning to buy a dress from eBay, make sure it is of a style that is easily alterable, or contact the seller to ask about their returns policy.
The Shoes
In a move that is horrifying some friends and delighting others, I am customising a pair of Primark shoes to wear on the big day. I dreamed up a pair of shoes that looked as though they had been sewn together from leaves, only to learn many fruitless searches later that such shoes do not exist. So I decided to take matters in to my own hand, purchase a pair of simple flats and hand sew skeleton leaves (again from eBay!) to cover them.
I've only finished one so far, but am extremely pleased with the result. You may not want to customise a whole pair of shoes for your wedding, but if you fancy getting your needle and thread out consider sewing a colourful flower or some ribbon on to some traditional cream or ivory shoes for that little something different.
The Bridesmaids
I've heard so many people moan about having to wear a bridesmaid's dress that just wasn't them that I decided I wanted my bridesmaids to be able to choose something they loved and that expressed their individual style. I've given them a free rein with their dresses, although each has been given a different vintage brooch and oriental fan to accessorize their outfit and draw the look together. The brooches and fans? You guessed it, from eBay.
The Origami Birds
There is a Japanese tradition that if a couple folds 1000 origami cranes before their wedding day, the commitment they have shown to the task will be reflected in a long and happy marriage.
As soon as I learned of this tradition, I knew that making 1000 paper birds was something I wanted to do for our wedding. I purchased paper with a variety of vintage-style patterns and spent my evenings folding birds (it turned out to be very therapeutic!). Paul has made one – he doesn't have quite such crafty fingers. I've strung the birds on cream ribbon (eBay!) and will be using them to decorate the marquee at our reception.
The Invitations, Order of Service and Thank Yous
I wanted our invitations to be personal to each recipient and to reflect the museum theme of our wedding (the ceremony will take place at South London's Horniman Museum). Paul and I spent a day visiting the gift shops of all the big London museums and buying different postcards for each of our guests. I then glued these to the front of each of our handmade invitations.
Since then, I've run away a bit with the idea of using postcards – we will be attaching our order of service to postcards displaying different Penguin book covers, and I managed to purchase a bulk load of Royal Wedding 'Married in 2011′ postcards from Paperchase to use as thank yous to everyone who comes (they are fairly understated and don't have Kate and William's faces on, promise!)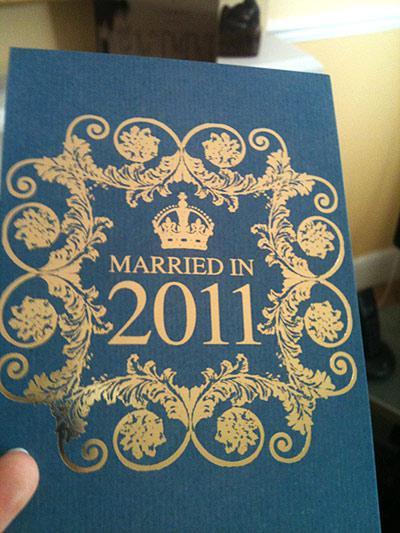 Other Touches
Karma Kar – I will be arriving at the ceremony in a fabulous Karma Kar (www.karmakars.net). I fell in love with these vintage Indian Ambassador cars when interning at Wedding magazine – they come complete with a sari-bedecked interior and a bumper covered in fresh flowers. Perfect for making a big entrance!
Vintage crockery – We will be serving champagne as a welcome drink in an array of mismatched vintage china tea cups. If you fancy hiring vintage crockery for your wedding, have a browse on the internet – there are plenty of companies which offer the service.
Hog roast – We fancied something more informal than a sit-down dinner at our reception. Paul is a huge fan of meat, so a hog roast ticked all the boxes. Better still, we've found a hog roast company called 'Love Me Tender' – rather fitting for the big day.
I've really enjoyed making and sourcing things for the wedding so far – I hope that I can think of more ways to get creative once I've finished sewing my other shoe or I will feel a bit lost!
If you like the sound of my wedding, please feel free to have a browse of my blog (www.edible-glitter.com) where I will be posting wedding planning updates along the way and some pictures of the day itself once September rolls around. You can also follow me on Twitter (@glitterblog).