I hate this time of the year. Pennant races are heating up, player slow starts are a thing of the past and the trade deadline looms. Then right in the middle of all this excitement, baseball takes 5 days off for a couple of exhibitions and a contest. These are the longest 5 days of my life.
Now, don't get me wrong, I like the All Star Game. It meant more to me as a kid because you got to see players from the other league that you might never see. However now with interleague baseball, that shine is gone. It messes up the flow of the season. They play a futures game, with minor league prospects, which has potential but has not caught my interest yet. The home-run hitting contest had a chance but is ruined by two things. It is too long with little action and Chris Berman (ESPN) announces it. If I hear "back, back, back, gone" one more time I will puke. I am willing to entertain any and all suggestions on how to improve the homer contest. By the way, how could MLB put Robbie Cano in a position to be booed during his entire at bat? The obvious solution would be an automatic berth for the hometown hitter most deserving of being in the home run derby.
The game itself, boring I'm afraid. This whole "now the game counts" is ridiculous. Give the home field to the league champion who has the better record, if they tie then maybe go to interleague play or play against their divisional rivals. The thought that an All Star game decides home field is the equivalent of a shootout deciding the soccer World Cup Champion. Nope, dumb ideas, both.
Is it Friday yet?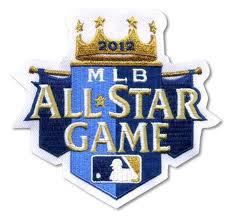 PINCH HITS
I thought I would mention a few All Star moments that stick in my mind…
- Fenway Park, 1999 - in the first round, Mark McGwire hit a 488-foot shot beyond the Green Monster clearing the street, soared over a parking garage and hit a billboard above the train tracks, right next to the never-reached Massachusetts Turnpike. BusinessBoy and I watched in amazement and yelled louder than the fans present
-2002 Twins center fielder Torii Hunter made an incredible catch to rob single-season home run champ Barry Bonds of a homer in the bottom of the first inning. I had turned on the TV just in time to see this catch
-The 2002 MLB All-Star Game resulted in a 7-7 tie after 11 innings, and both teams had run out of players and pitchers. I chanted Bud Selig must go from then on.
-1983, Comiskey Park highlighted by the only grand-slam home run in the history of the All-Star Game, hit by California Angels center fielder Fred Lynn. When we played ball at home, my brother was always Lynn because of his glove. This made it even better.
-1993, John Kruk had an at-bat against Randy Johnson of the Seattle Mariners and Kruk reacted like all of us would have facing a 6'10" pitcher throwing 99 miles an hour. I remember some people feeling that Kruk made a farce of the game. I figured he was just scared shitless.
-1989 game when  Bo Jackson took a Rick Reuschel pitch and deposited it 448 feet away for a mammoth home run. I can still hear the bat hit that ball, very, very cool.
-1971 Reggie Jackson came to bat as a pinch-hitter for Oakland A's starter Vida Blue and hit it on the roof of Tigers Stadium into a light tower estimated at 520 feet. I missed this one live but remember seeing a replay somewhere else later on and just marveling at how far that ball went.
-1999 MLB Boston Red Sox pitcher Pedro Martinez struck out 5 of the six men he faced with the other being thrown out stealing on K number 5. I hated the Red Sox then, hate them now but realize just what kind of history was being made here.
-Yankee Stadium, 2008 Josh Hamilton hit 28 home runs in one round of the home run derby, each one seeming longer than the last. Again, a mesmerizing performance even if he didn't win the derby.
See you in a few days!