For quite some time, I have battled dry skin. Mainly on my arms and face, and quite frankly, I can't stand it. Any soap that I used seemed to worsen it, instead of helping.
Then one day, I saw some tweets from a friend about All Natural Soaps. I was curious so I jumped right on over to Etsy.com and started looking for All Natural Soap options.
A lot of vendors came up in my search. I was unsure about which to try. There are so many! Some cold process, heat process, vegan soap, soy free, made with olive oil, and so on.
So I jumped in and started ordering. The first soaps I ordered were from Gutsy Girls.  Debbie makes some fabulous and pretty soap products, potions, and candles as well as some vintage handbags. There were so many fragrances of soaps! So many, I had a hard time choosing. Gutsy Girls soaps are beautiful! If you are one to set soaps out in your spare bathrooms for guests or if you simply just like looking at some pretty soaps, Gutsy Girls can help!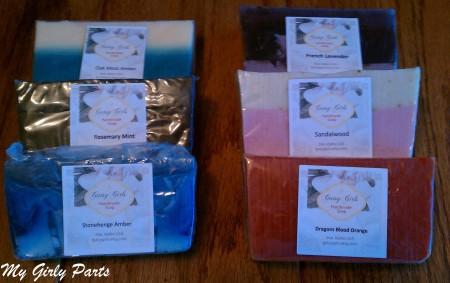 Gutsy Girls soaps are made from All Natural ingredients, including Olive Oil and Coconut Oil. The soaps smell absolutely fabulous and certain ones (my favorite, Sandalwood) actually lingers on you throughout the day. I've had several people comment thinking it was perfume.

You can check out more of
Gutsy Girl
products by visiting her
Etsy page
 or their Facebook page.
Then I decided to try some more, not just from Gutsy Girls but broaden my knowledge of these All Natural Soaps.
I found Stress Tamer Spa and scored some more fabulously smelling soaps!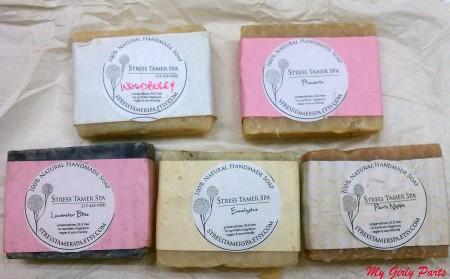 As you may notice, they are not as fancy looking as Gutsy Girls but they smell as wonderful and leave you feeling silky smooth! I'm not sure about the differences in processing this soaps, however, the soaps from Stress Tamer Spa are "cold processed".
I'd like to add, both of these vendors are selling wonderful products imo. The soaps lather up great, smell wonderful, and wash away clean. If handled properly, they last quite a long time. Meaning don't leave them laying in the shower. Put them up in a soap dish somewhere high where water can erode the bars away.
I've been buying these soaps for quite some time now and although they are more expensive than bar soap you buy at the store, the results I've seen are well worth it.
So if you're looking into trying something new, I highly recommend both of these stores via Etsy. If you decided to try them, please let me know how you like them?
Have you tried these products or are you using All Natural Soaps made by someone else, or even, yourself?
Don't forget! We have another Featured Guest coming Tuesday!