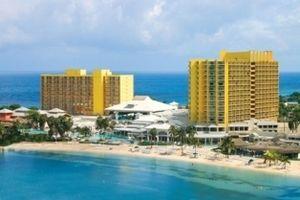 The island of Jamaica is a place that needs no introduction when it comes to vacation of any kind.  Many
all inclusive family resorts
in Jamaica are built with the family visitors in mind. An ideal group of resorts you will find in the island for family vacations are all inclusive resort with water parks. The resorts are a dream for families as they allow younger family member and adult alike to get the time of their life on their family vacation. Other benefits of these locations in Jamaica are they are ideally located in the top destinations on the island where you can find some lovely attractions for families to enjoy.  Jamaica has many lovely family resorts, but for this overview, we will look at some of the country's resorts with water park for family vacations.
Sunset Jamaican Grande
The Sunset Jamaican Grande is a resort with four star status and is another amongst the top all inclusive family resorts in Jamaica with water park. It's a resort that gives family great access to some of the top attractions in the island including Green Grotto Cave, Dunn's River Falls, Sky Explorer, Optional Zipline Tour and Chukka Adventure Tours. These provide great adventure for family visitors. The resort is a place they will ensure that all members of the family are well taken care of. The water park features plunge pools, lighthouse water slides and swimming pools.
Beaches Negril Resort
This resort is one of the four star all inclusive family resorts in Jamaica. The resort is located on the famous seven miles beach in Negril. It is a location that has all the attributes of paradise. Children will love the different familiar characters that they are accustom seeing on television at the resort. This will just fascinate their imagination and the adult feel wonderful because you know your loved ones are having the time of the young life. When it comes to recreational activities the resort long lazy river, huge whirlpool self-serve ice cream machine will ensure the children enjoy themselves. All you will love in a water park facility is at this resort. Although we have not made mention of the things adults can do at this resort you can expect that if the resort show such great interest in making your young family members' happiness, you know they will go all out to make you happy because you are the reason the kids are there.  
Sunset Beach Resort and Spa Montego Bay
The Sunset Beach Resort and Spa is another one of the all inclusive family resorts in Jamaica that needs no introduction when it comes to family vacations. It's a resort for kids of all ages. The resort has a playground, dancing, and a host of watersports activities that kids will love. The water park features 35 feet water side and excellent lazy river for all visitors to enjoy. Adults will love the different activities which include sailboats, paddle boats, kayaking, snorkeling, sunfish beach soccer and volleyball. There is a lovely private beach at the resort for family members who love seclusion.  This is one of the all inclusive family resorts in Jamaica with water park that should the in your next family vacation plan.
Jamaica is one of the destinations that will allow you to create amazing memories about the Caribbean
.
The different
all inclusive family
resorts in Jamaica with water parks
are ideal options for family visitors. These resorts are of the highest standards, so you know that safety is a critical component of these locations maintaining the great reputation. When considering a family vacation in Jamaica, remember that all inclusive resort with water parks are favorites for children.