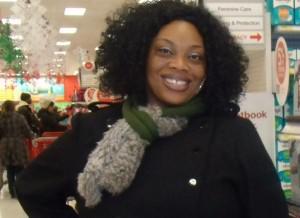 When I was a child and the month of December rolled around my mom would ask me what I wanted for Christmas. I was always prepared with a list of all the toys I wanted Santa (winks) to bring me. Every year my inch high private eye self would go around the house and find everything that was hidden spoiling just about any surprise my mother had for me. To this very day, no one in my family trys to surprise me because they claim it's just to hard and honestly, I really do like surprises, that's if you can pull it off. When I was younger things were much simpler, I didn't wish for love, I didn't wish that my bills were lower, I didn't wish for a life time of free shoes from DSW,  I didn't wish for the latest Michael Kors handbag, and I sure as hell didn't wish for a million dollars to fall out the sky. I simply wished for toys and gadgets and didn't have a care in the world. Every Christmas morning I spent hours unwrapping and playing with the new stuff I had gotten. Today I was thinking about some of the items I received for Christmas and I simply couldn't believe how things had changed. So I took the time to find some of my most memeorable gifts that made me smile and gave me many hours of fun when I was a child.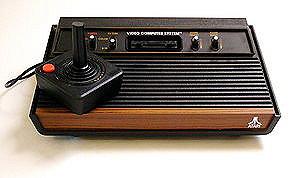 The Atari 6400, they didn't even try to surprise me with this one. My grandmother walked in and said lets go to Sears. There was no Wal-Mart, Target, or Best-Buy then and Sears was the only store I knew as a child. Everything came from Sears! When I heard the words let's go to Sears! I knew something big was about to go down and on this one special day they purchased me this atari 6400. I spent hours in front of a black and white 13″ TV playing pac-man. combat, and millipede. The games looked like 8 track cassette tapes and the technology was simple. Games didn't look like movies during that time.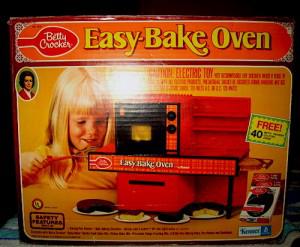 I thought I was Paula Deen with my easy bake oven. I can't count the many days I spent making those horrid cakes and brownies from the little baking packages that were made especially for the oven. Every time someone cooked, I made dessert and I'm sure in their minds they were thinking "oh no, not another easy bake oven creation.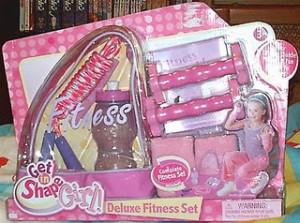 Jane Fonda didn't have nothing on me with Get In Shape Girl! When I got this set and put on the head band with the leg warmers  you would have thought I would become a fitness instructor. Well obviously Get In Shape Girl did no good for me but hey I was cute in my get up walking around with the pink 6 ounce weights like I was really working out.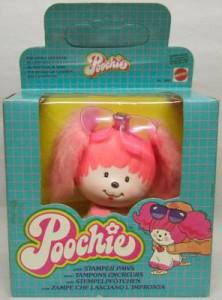 Poooooooooochie Poochie for Girls, who couldn't forget the theme song for Poochie.  A fashionable dog with pink hair and sunglasses that made a variety of accessories for girls. I had the stamper, the stationary, the little travel purse and the you can't tell me shit attitude to go along with it.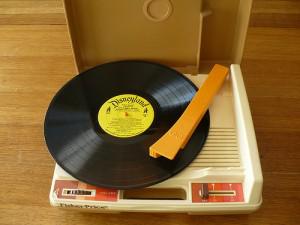 Put the needle on the record! My first record player, I jammed non-stop in my bedroom to The Last Dragon soundtrack on LP right along with New Edition. I can't count how many times I tried to dance like Jennifer Grey & Patrick Swayze while listening to the Dirty Dancing soundtrack. I really did have the time of my life! My mother would take  me shopping for 45′s almost every week. I think 45′s cost about $0.99 maybe cheaper and I would buy about 5 and come home and jam the night away.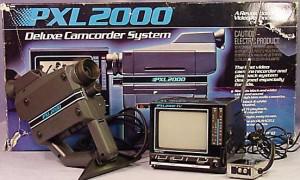 Before there were HD camcorders and digital cameras I had the PXL 2000 and I knew at that very moment I was destined to be in front of the camera. This camcorder shot some horrible footage that showed on a small black & white TV that came along with it. The TV also got local channels and I use to hide under the covers and watch old B&W movies that came on late at night.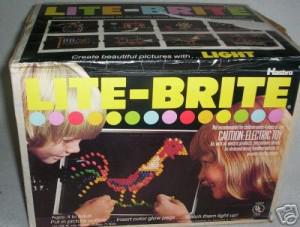 I truly believe that the reason why my eye sight is so bad now is because of Lite-Brite. This was the most time consuming toy ever. I mean it took hours to put them tiny ass pegs in the pattern. You then turned it on and watched the whole thing light up and instantly you became blinded by the lights, then you take the pegs out and start all over again. Now that I think about it, what exactly was fun about that? Not to mentioned that the Lite-Brite got so hot when you turned it on it doubled as a space heater!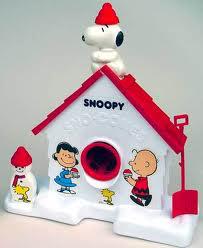 Boy oh boy! I couldn't wait to make me a sno cone with the flavor red. I know red is not a flavor, but back in the day whenever someone asked you what flavor sno cone or kool-aide you wanted the answer was red! I think I got early on set arthritis in my hand from churning the ice to make me a sno cone. By the time you got the ice you needed you was too damn tired to enjoy it. Needless to say my favorite flavor is still red!
Those were the good ole days