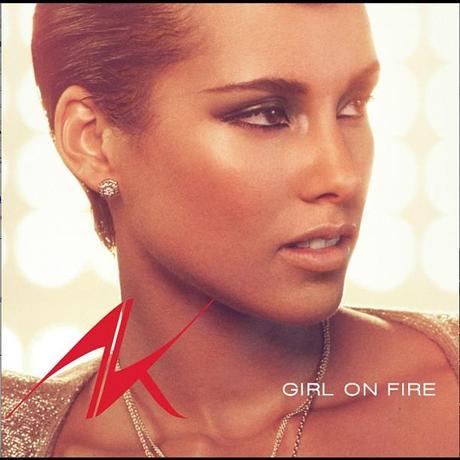 I don't know if anyone, including Alicia Keys, really gives a fuck about Alicia Keys. Keys' droopy new album is named after the worst song on the album, Girl on Fire; it's a vehicle for many a wailing vocal flourish while managing to somehow consist entirely of meaningless cliches:
Oh, we got our feet on the ground

And we're burning it down

Oh, got our head in the clouds

And we're not coming down
There is not a single song worth listening to on Keys' eminently predictable new album. We're trotted through all the standard R&B tropes – piano ballad, slow jam, synth-y faux-electronica, sing-hop, castrated bosses, and (God save us) The Blues – and at every turn all the things that are supposed to happen do indeed happen. The most progressive song on the record, the Swizz Beatz produced "New Day," sounds like something Jay-Z would have passed up in 2010. Even the manic/plastic Nicki Minaj's guest turn on "Girl on Fire" fails to elicit the smallest spark of excitement. The listener finds themselves wondering why this record exists, since any passion in Keys' voice sounds not only synthetic but actually forced – like watching a trapeze artist execute a perfectly-coordinated routine with a sort of bored, angry look on their face. Girl on Firehas about as much personality as a math workbook.
I should backpedal a bit and say that there is something to respect in Keys' performance. Her skill as a vocalist is convincing, if not particularly exciting, and she is wonderfully free of both of the worst female-pop-star tropes (the Trashy Ke$ha & the Brainy Gaga). At heart she's a singer, and darn it she's pretty good at that. I can respect that. But the rest of the record is so screamingly forgettable you have to wonder why anyone would ever listen to this when singers like Gretchen Parlato or Maxwell (whose feature is a high point on the record) are in their prime. Why settle?
Bars: 1 / 5

Alicia Keys – Tears Always Win
08. Tears Always Win
Alicia Keys – Limitedlessness
11. Limitedless
Alicia Keys – Listen To Your Heart
04. Listen To Your Heart