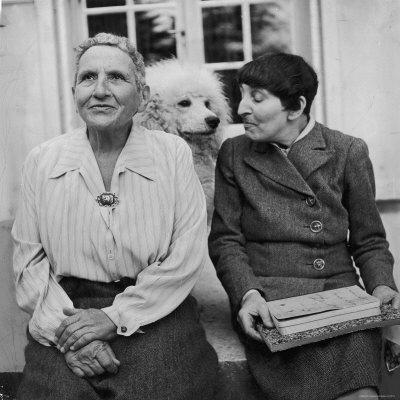 I never liked Gertrude Stein. I think her poems are wretched and that she was a domineering, manipulating person. I don't know what Alice B. Toklas saw in her (maybe it was her Tender Buttons) but over a 100 years ago, in September of 1910, Alice B. Toklas became the lifetime house mate of Stein.
Gertrude who had been sharing a house with her brother Leo for many years, met Toklas in 1907. Leo and Gertrude were the children of a railroad executive who made prudent investments in San Francisco's cable car lines, therefore making his offspring wealthy and able to travel and live without really working.
Alice would later write that when she met Gertrude Stein: "She was a golden brown presence, burned by the Tuscan sun and with a golden glint in her warm brown hair." I'd like to know who her optometrist was.
Alice was a chain smoker with a slight moustache. She had a penchant for great hats and cool earrings. Every morning for an hour she manicured, buffed and painted her finger nails. In 1908 Alice used those tidy fingers to type manuscripts for Gertrude Stein.
1909 found Alice staying with Gertrude and Leo in Paris. On September 9, 1910, she moved in to 27, rue de Fleurus permanently. Toklas took the reigns of Stein's household. Leo packed his trunk in 1914.
The two women turned their Parisian home into an important artistic and literary salon, where they entertained Picasso, Matisse, Hemingway, Fitzgerald, and many others. Alice was an excellent cook and fond of art, decorating, tapestry and flowers. She was left to entertain the wives of many of the painters Gertrude held court with.
In 1933 The Autobiography of Alice B. Toklas was written by Gertrude Stein and is basically Stein's memoirs. I enjoyed reading it, as I love reading about that time period in Paris but Ernest Hemingway called it a 'damned pitiful book'; Henri Matisse was offended by the descriptions of his wife; Georges Braque thought Stein had misconstrued Cubism; and Leo Stein deemed it to be a "farrago of lies".
I have the The Alice B. Toklas Cookbook in my collection. Used, it smells strongly of smoke and I can pretend it was actually Alice's.
For those who are curious, the "B" in Alice B. Toklas's name stands for

Babette

.


image: Gertrude Stein, Alice B. Toklas and their poodle Basket. France, 1944.

Photograph

by Carl Mydans.