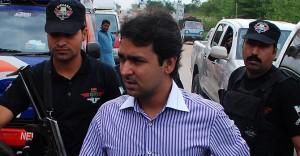 Ali Musa Gilani arrested in ephedrine case
Ali Musa Gilani, the son of former Prime Minister Yousaf Raza Gllani, on Friday morning arrested from the gate of Supreme Court by Anti-Narcotics Force (ANF) in the Ephedrine case.
Minutes later, Supreme Court orderd the authorities to produce Musa Gilani within half hour.
Yesterday, Musa Gilani had filed an appeal through his laywer Khalid Ranjaha in the apex court to seek interim relief against a Lahore High Court (LHC) verdict, which denied him a pre-arrest bail on earlier this month.
Musa is accused of pressuring officials of the Health Ministry in 2010 to specify a quota of controlled chemical ephedrine to two pharmaceutical companies – Berlex Lab International and Danas Pharmaceutical.
Earlier this week, the ANF has included the names of Musa Gilani, Federal Minister for Textile Industry Makhdoom Shahabuddin and former principal secretary to the Prime Minister Khushnood Lashariin for the first time in challan's accused column since it started investigation into the ephedrine scandal in September last year.
However, the Supreme Court had granted pre-arrest bail to Mr. Shahabuddin till September 25 acouple days ago.
Today, when Musa Gilani arrived at Supreme Court for the hearing of his application, the officials of ANF dragged him out of his car and took him at the regional directorate.