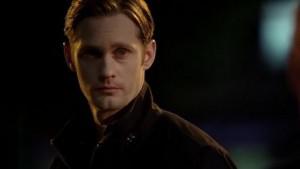 After more than two hundred thousand AskMen.com readers voted on which men they feel have earned the right to call themselves one of the Top Most Influential Men of 2011, the results are in…
One of our favorite Vamps has managed to lock in recognition on this Hot List! Alexander Skarsgård (Eric Northman) on HBO's True Blood has secured the 17th spot on the Top Most Influential Men of 2011. For True Blood fans it will come as no surprise to see that this Vampire Viking has received this much deserved recognition. Skarsgård plays the gorgeous, smoldering, powerful, Sheriff of Area 5 on True Blood, who has recently become entangled in a VERY sexy love triangle with Sookie (Anna Paquin) and Bill (Stephen Moyer), which hit its climax in Season 4 and answered the "Will they?Won't they? " between Sookie and Eric with a resounding hell YES!
Skarsgård receives this recognition alongside some of the world's most popular and influential figures; Piers Morgan, George Clooney, and the late Steve Jobs (number 1) all of whom received status as one of the Most Influential Men of 2011.
I'm sure I speak on behalf of all the Team Eric fans when I say congrats Alexander, you deserve this acknowledgement, and we can't wait for you to work your way up this list next year!
Source: Askmen.com - Top 49 Men 2011
Photo: HBO