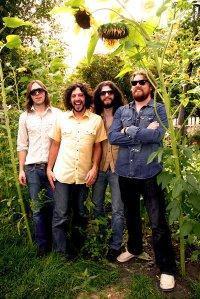 ROLLING STONE MAGAZINE HOLDS PARTY FOR WINNER OF ITS FIRST-EVER "DO YOU WANNA BE A ROCK & ROLL STAR?" COMPETITION ON AUGUST 3RD AT THE EMPIRE HOTEL ROOFTOP
The Sheepdogs Become First Unsigned Band on the Cover of Rolling Stone
Proceeds of Event to Benefit Music Unites
NEW YORK, August 4, 2011 – Rolling Stone magazine hosted a party to honor Canada's The Sheepdogs – winners of its first-ever "Do You Wanna Be a Rock & Roll Star?" competition at The Empire Hotel Rooftop on August 3rd.  As the winners of the historic competition, The Sheepdogs are the first band not signed with a major label to grace the cover of Rolling Stone.
The winner of the competition, presented by Garnier Fructis, was announced on Monday, August 1st and was determined solely by consumer votes.  Along with appearing on the August 18th issue of Rolling Stone (on newsstands August 5th), The Sheepdogs will also receive a recording deal with Atlantic Records and performed on Late Night with Jimmy Fallon.
The Sheepdogs were joined by industry luminaries and VIPs at the event to celebrate the cover reveal.  All proceeds from the event benefited Music Unites, a non-profit organization dedicated to supporting emerging and established artists and bringing music education to students in underfunded inner city school systems.
The competition began in February with 16 undiscovered bands and artists selected by Rolling Stone, AOL Music editors, and Atlantic A&R executives. After several rounds of voting, the competition was narrowed down to Lelia Broussard and The Sheepdogs, who took the stage to battle it out at Bonnaroo Music Festival in June.  Their performances kicked off the final voting period, which concluded on July 1st.
For more information on the "Do You Wanna Be a Rock & Roll Star?" competition, please visit: http://www.rollingstone.com/choosethecover
Who: The Sheepdogs – Winner of Rolling Stone's "Do You Wanna Be a Rock & Roll Star?" Competition, True Blood's Alexander Skarsgård, Larry David, Ice T and Coco, Glee's Harry Shum Jr., Atlantic Records musician Sabi, supermodel Jessica White, Outsourced's Ben Rappaport, Blue Bloods' Will Estes, Angela Simmons, Shinedown's Brent Smith, Law & Order: SVU's Kelli Giddish.
What: Rolling Stone's "Do You Wanna Be a Rock & Roll Star?" Cover Reveal Party
When: August 3, 2011
Where: The Empire Hotel Rooftop
To view photos of the event, click here and here.
Contribution credit: DKC News