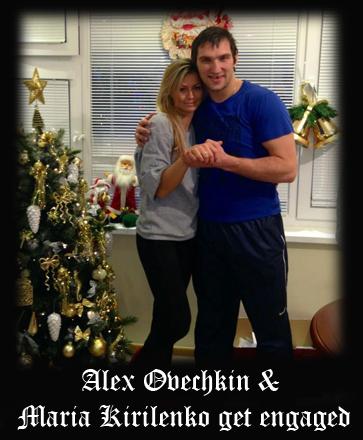 The weekend turned out to be a pleasure for Washington Capitals Superstar, Alex Ovechkin who confirmed his engagement to Russian tennis star Maria Kirilenko.  The couple has been dating for little more than a year & since then the two have shared an inseparable relationship. The cheerful news was first announced on Twitter on Monday by Ovechkin where he tweeted, "We are engaged!!! "
Alex is a Russian professional ice hockey left winger& the captain of Washington Capitals of the National Hockey League. Maria Kirilenko is a proficient Russian tennis player, ranked 15 in the WTA. She won her first WTA Tour title in 2005 defeating Anna-Lena Gronefeld in the China open. She won the Wimbledon single quarterfinals & doubles final at the French open with partner Nadia Petrova.
Sources explain that Ovechkin had spent the summer attending all tennis tournaments of Kirilenko which included the Wimbledon as well as 2012 London Olympics where he defined the role of playing an occasional & supportive practice companion. He wasn't shy on admitting his relationship, wherein he popped the question on New Year's Eve. Kirilenko, who normally keeps her personal life secret, has expressed about her relationship delightfully.
Currently no photographs of the engagement ring have been surfaced. On the New Year Day, Alex tweeted out a picture of the couple by the Christmas tree where Maria apparently displayed some bling on her right hand. Ovechkin commented on his emotions about being in a relationship & said, "It's always nice to have that kind of person around you. It's good."Kirilenko left for Australia soon after the engagement, so the couple hasn't had a chance to set the wedding date.
Mikhail Ovechkin congratulated the soon- to-be wed couple & bestowed his blessings for a brighter future.
Congrats to the admirable athletes!