09/19/2011 – by Cynthia Wright
Alec Baldwin is no stranger to controversy. The outspoken 30 Rock actor has had many instances of his private life splashed across the media for all to see. Seriously, who can forget when his recorded messages were leaked to the press, where he "eloquently" chastised his daughter for not returning his calls.  Even recently, Baldwin has lashed out on his Twitter regarding an argument in Starbucks – which culminated with the star becoming enraged that a member of the press came to his house over Labor Day weekend.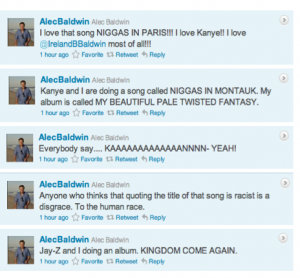 Alec Baldwin's Tweets
Outside of that, Baldwin is one of the more active stars on Twitter, where he discusses liberal politics, movies and music. Being that the star has debated whether to enter into politics himself, his Twitter presence seemed to be one step in the right direction.
On Sunday, during one of his Twitter talks – Baldwin made mention of Kanye and Jay-Z's "Watch the Throne" CD – one song in particular, "Nigga's in Paris." Baldwin expressed his love for the song, where he spelled out the racially charged slang epithet. Soon afterward, he posted a tweet stating that he and Kanye were going to link up for a song titled, "Nigga's in Montauk."
It didn't take long for it to circle around Twitter, with various black Twitters users becoming enraged at the actor for his lack of tact. While Baldwin didn't really utter an apology, his not appearing at the Emmy's was probably the smartest thing he did all weekend.