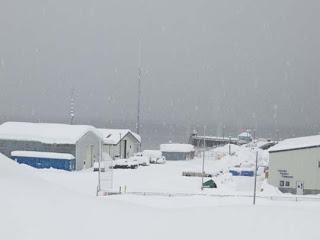 View of Valdez Harbor from the Conference Center
At the end of March I went to Alaska to speak at the Alaska Library Association conference in Valdez and to do two library programs.  It was an exciting week with breathtaking scenery, a late winter snowstorm, meeting librarians from all over Alaska, and doing some fun activities with kids.  At the conference I gave a presentation called
Think Outside the Book: Projects and Activities that Reinforce Reading
in which I highlighted various ways books like mine can be used as jumping off places for other activities.  These include writing projects such as animal pyramid poems, art projects, miniature and life-size models, watching wildlife on live video cams on the web, and more.  A list of
links to all the projects
can be downloaded from my website. I thank Carol Race from the Juneau Library for organizing my book signing at the conference and the conference organizers for making everything run smoothly.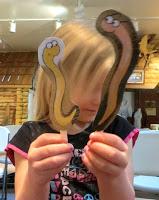 Wiggle and Waggle puppets, Wasilla
After the conference I went to Anchorage--a spectacular ride (7 hours) over the pass and through beautiful snow covered mountain valleys. One morning I did a story-time presentation at the Wasilla Public Library (about an hour's drive from Anchorage) to a group of lively pre-schoolers.  The focus of the program was my Wiggle and Waggle book.  The children helped act out the story with my sock puppets, sang the song with me, and participated in the story.  Then they each made their own stick puppets to take home. Click here to download the
Wiggle and Waggle activities
.  Thanks to Sara Saxton for coordinating my visit and for cutting out all the Wiggles and Waggles!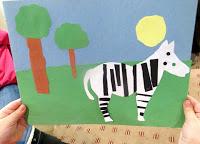 Zebra art, Loussac Library, Anchorage
Later that day I did an after school program at the Loussac Library in Anchorage which included a craft project,
Put Stripes on the Zebra
.  As always, I was amazed at the children's creativity both in the arrangement of stripes on the zebras and in adding elements to the background.  Some put in trees and clouds and suns, others added flowers, and one boy added a cart and a helmet for the zebra!  I thank Linda Klein for coordinating the program and assembling all the craft materials, Mary Crosby for her assistance helping to make everything run smoothly, and Sherry Douglas for making it possible.  I also did some sightseeing in Anchorage, visiting the Alaska Museum and the Science and Nature Museum.  Altogether, it was an exciting trip!