A shared passion of my husband and I is great food and for our birthdays we always mark the occasion by indulging in an award winning restaurant. Our birthdays are close together, his in December and mine in mid-January so all the excesses of Christmas spill over until this time.
Although I am in my thirties, I have never tired of having surprises and surprising other people and it is for this reason we keep quiet about the venue, well until 30 seconds before we walk through the front door!
For his birthday I took him to Launceston Place, where chef Tristan Welch delighted us with cep risotto, west coast scallops and dark chocolate soufflé with Laphroaig ice cream (this was a Brucie bonus as hubby loves his whisky).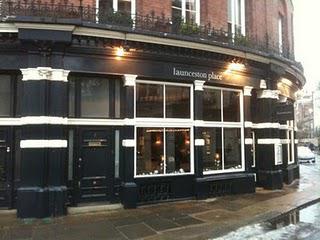 Lunchtime at Launceston Place in December
Last month for my birthday he took me to Alain Ducasse at The Dorchester (ok, ok hubby wins hands down!)
As The Dorchester is situated in Park Lane, he deliberately took me up the back streets of Mayfair not to make it obvious we were headed for the Park Lane area, with a few crafty moves and sneaky turns we were facing the main entrance of the hotel. It was a jaw dropping moment! I had to gather myself as I realised this was something huge!! He confirmed that it was indeed Alain Ducasse and that the booking was for 7.30pm.  It was just before 7pm so we had enough time to take a wee birthday aperitif at the bar.
When you walk into the Dorchester, you cannot help but be impressed with the sheer opulence of the lobby with its sparkly marble floor, and beautifully detailed rugs and drapes, a few oligarchs with approving smiles caught my eye as they seemed to be enjoying the remainder of their afternoon tea. Small wonder that it is one of a few five star hotels in London.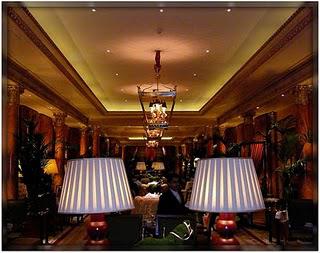 Lobby at The Dorchester
Photo Credit: flickr: UggBoy
The Bar (originally named) is very chic and buzzing with all types, from young guys adorned in the  latest trends to a group of men dressed in tuxedos swapping stories about their latest ventures. We are shown to a table and presented with a cocktail menu with eye-watering prices; from a brief glimpse we opt for one of the cheaper drinks; a glass of Champagne at £17 (eek!). This is served alongside a generous portion of olives and nuts but we are careful not to overindulge as we know we are in for a "foodfest" in the hours to follow. No sooner have we finished our champers, then we are offered another and with the best will in the world we politely decline and make our way to one of the only three Michelin starred restaurants in London. Having been to both Gordon Ramsay and the Waterside Inn, I wondered how the Alain Ducasse restaurant would compare.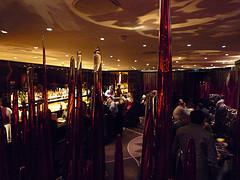 The Bar at the Dorchester
Photo Credit: www.thedorchester.com
This is the only Ducasse restaurant in London and was awarded with a third Michelin star in January 2010. We had been to the Mix restaurant in Las Vegas which had spectacular views but the food and service would not be a patch on this restaurant. The Michelin guide for this year had just been published and this restaurant had retained it's 3 star rating.
We are warmly welcomed into the restaurant and shown to our table which is located on an elevated platform looking over the restaurant with the hubbub of Park Lane behind us. The decor is light, warm, and airy with what looks like champagne/water bubbles on the wall. Very crisp and clean and immediately puts us at ease.
We are presented with a number of menus; a la carte, two tasting menus and the wine menu. 
Anxious to sample the chefs works of art, we opt for the cheaper tasting menu at £115 per head (If my memory serves me well, I believe the other tasting menu is edging towards £180 per head and this is before you consider wine and water....gulp!)
Although we both enjoy wine, we do not drink copious amounts of it and with the sommelier suggesting we have a wine to match every course (7), we feel that it is a tad excessive and ask him to recommend a couple of glasses (a white and a red) that complements all the dishes, which he does with much vigour and enthusiasm.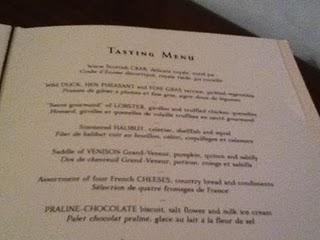 Preview of the Tasting Menu at Alain Ducasse
We are provided with some little cheese (gruyere, I believe) and black pepper filled choux buns before our first course arrives which we happily tuck into. It feels such a shame that there is a small mountain of them and we will not be able to finish all of them.
We are presented with a wide variety of bread to accompany our meal (olive, tomato, bacon focaccia and Scottish scones). Our first course comes which is a stunning dish of warm Scottish crab dressed in a coral jus. You immediately taste the sea and are blown away with the velvety texture of the jus.
The second course arrives and it is wild duck, hen pheasant and foie gras terrine with pickled vegetables. The foie gras is melt in the mouth and it's rich gamey flavour is abundantly clear and thoroughly complements the toasted brioche and our recommended white wine beautifully.
The third course is noted as one of the chef's signature dishes and is the "Sauté gourmand" of Lobster and truffled chicken quenelles. Even the description sounds dreamy!
Before we are served, the maitre D' presents us with the type of truffle that is used in this dish. It is encased in a glass jar to retain the distinct scent. My! Oh my! It really is quite powerful! I think to engage the customers in this way is a really nice gesture and should be encouraged more in similar restaurants.
When the dish arrives, the aroma is heavenly, again a salty, seawater freshness tinged with creamy velvety mushroom. The pasta is cooked to perfection and I am in heaven. You can certainly appreciate why it is labelled a signature dish! My only complaint is that I could eat so much more of it!
Next up is the simmered halibut with celeriac, shellfish and squid. This is a light and delicate dish, not too overpowering which sits nicely between the lobster and the dish to follow.
With a quick change of wines, we are now onto a Chateauneuf du Pape to accompany our next dish which is a saddle of venison with pumpkin, quince and chestnuts .Although I am not a huge fan of pumpkin, the sweetness of the vegetable matches the sweetness of the very tender venison well and I am savouring every moment!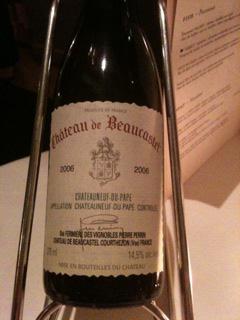 Choice of wine: Chateauneuf du Pape
I cannot believe I still have two courses to go! I need to take a temporary break from all this gluttony and I decide just to leave the restaurant to walk around the lobby for a few minutes. On my return, waiters are falling over themselves to make sure I am seated correctly and my napkin is neatly folded and presented to my right.
OK! Cheese course I am ready! We are presented with a basket of hazelnut and raisin bread to accompany our cheese dish. There are 4 different types of cheese ranging from a mild goats cheese to the stronger Roquefort. They have been well selected and one by one we eat them in the order of strength. All delicious and with their own identity. I am however, having some discomfort – I skipped lunch today but am already feeling really full!
With a little break before dessert, we are presented with different flavoured macaroons (passion fruit, chocolate, lime) and a mixture of milk and plain chocolate, some of which are pralines (yippee!)
This is all very nice but where am I going to put all these?
About 10 minutes later we are presented with our dessert; a bitter chocolate tart with coffee granite. A nice conclusion to the meal. The richness of the chocolate is complemented by the sharp coffee notes.
Our plates are taken away and within minutes the waitress brings along a trolley packed full of sweets including rhubarb flavoured chews and nougatine!  Yum! I cannot believe me eyes! Again, I am thinking I have no space! The chocolates and macaroons which were earlier presented are still our table (untouched....well practically!). She swiftly recommends putting a mixture in a goody bag for us to take home." Oh yes please" we both announce! We pass on coffee and 
liqueurs.
We are then visited by the Maitre D' who asks us if we have enjoyed the experience. He comes across as friendly, warm and knowledgeable and takes great delight in recommending other places to eat e.g. The Fat Duck (mmm yes if we can get a table!), The Hinds Head – a good alternative if we are in the area. He tells us he used to work in Royal Hospital Road with Gordon Ramsay and that within the industry the chefs and waiting staff are like one happy family. In fact he is taking "his lady" (a romantic Frenchman) to eat with Gordon Ramsay at the soft opening of Heston Blumenthal's restaurant at the Mandarin Oriental. How lucky! I hear nowadays, their reservations alone are being sold for £90 on eBay. The world has gone mad! 
With a few more pleasantries the bill has been paid, I daren't ask how much it is but it certainly has created a dent in the wallet. A sound investment methinks!
On departure, with goody bag in hand, we are escorted to the door by the Maitre D' and presented with yet another delicacy from the house of Alain Ducasse;  a white box containing two little orange cakes that he recommends we take for breakfast.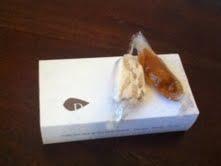 All that remains:Orange cake and sweets from Alain Ducasse
What an evening! I feel truly spoiled and incredibly lucky. I believe that this is one indulgence that everyone should experience in their life. It has given me very pleasant mouth watering memories that I will cherish forever.
If you are looking to treat a loved one, enjoy gourmet cuisine and are willing to splash out, book a table at Alain Ducasse at the Dorchester.
http://www.alainducasse-dorchester.com/
You won't be disappointed!
Tell them MeLikeyUK sent you!
Enjoy x