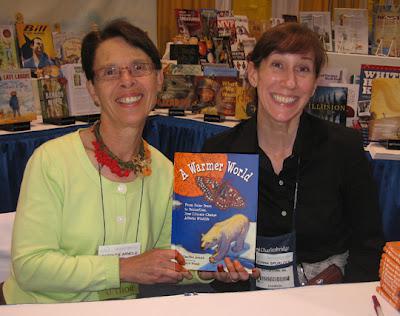 Caroline and Donna Spurlock in the Charlesbridge Booth
A week ago I was at the ALA (American Library Association) convention in Anaheim where I saw friends, browsed new books in the hundreds of booths, listened to several sessions, and best of all, had a chance to meet and interact with librarians
.
  I also signed
A Warmer World
in the Charlesbridge booth.  People seemed to be very interested in climate change and when my new book from Charlesbridge,
Too Hot? Too Cold?
, comes out next year the two books will be perfect companions.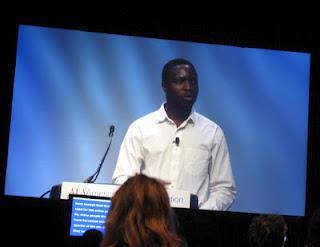 William Kamkwamba
My signing overlapped with the Nonfiction Book Blast so I didn't get to hear all of it, but I was able to hear a number of the ten minute "blasts" including Ginger Wadsworth telling about her new book,
The First Girl Scout
, about Girl Scout founder Juliet Low. (I was a Girl Scout and so was my daughter and granddaughter, and I remember learning about Juliet Low when I was growing up.) In the session Teens Making a Difference I heard the wonderfully inspirational talk by William Kamkwamba from Malawi who changed his village's life and the future of his family by building a windmill, the story which is told in the book
The Boy Who Harnessed the Wind.
Hearing him speak brought back memories of the three months I spent in East Africa in the 1970's.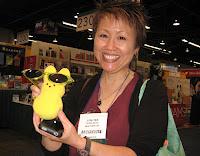 Author and friend Lisa Yee, and "Peeps"
As I said to a friend, for an author, going to ALA is like a child being let loose in a candy store--there are so many new books, new ideas, people to talk meet and talk to, old friends to catch up with, that it is hard to fit everything in. It was a great conference and will provide inspiration to last the whole year!