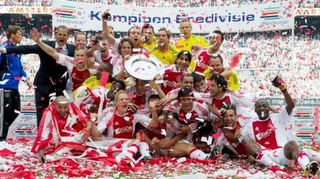 Ajax have claimed the club's 30th Dutch Eredivisie title wonderfully. The Dutch season was right down to the wire, with the final game between Ajax and Twente deciding who would win this season's Eredivisie. While Ajax were a point behind first-placed Twente in the table, a victory against last season's champions would seal the Ajax their 30th title.
Ajax won 3-1 in front of their fans, securing the Dutch Eredivisie title, and ending a seven year streak in which they hadn't been able to win the Eredivisie. Now, thanks to the coach, Frank de Boer, Ajax have ended that streak and can now add another star to their badge. Every star above their badge symbolizes ten titles, and now Ajax have three.
Below are the highlights of the title-deciding match between Ajax and FC Twente. A great compilation of Ajax's goals and celebrations, I hope you enjoy it.