September is here, and along with it my favorite, and personal, birthstone! While sapphires do come in a lovely array of colors, the deep blue is my favorite. It's also typically the first color most people think of when they imagine a glimmering, shining sapphire.
It also happens to be a jewel tone (obviously) and is therefore universally flattering. Truly – find me someone who doesn't look good in jewel tones and I'll buy you a martini. Or something. But we can figure that out if you ever find the one person who doesn't look good in a rich, luxurious shade of blue. And when it comes to bridesmaids dresses', universal flatter-age is the name of the game. Hopefully.
So sapphire bridesmaids dresses are a gorgeous option for your maids, regardless of your wedding date. Of course, this shade lends itself beautifully to fall and winter weddings, but really looks good year round. It plays well with a variety of palettes, whether you take it preppy with kelly green or buttery yellow – or you go full glam with metallics. And even then, the accent color you choose changes the whole vibe. Silver reads cool winter wonderland. Copper or rose gold is stunning for fall. ANd a beautiful gold is sheer perfection for summer.
My first stop for bridesmaids' dresses is always Rent the Runway. It gives brides the gorgeous, high end style they want, at a price point every bridesmaid dreams of. It lets you go over the top while throwing caution to the "never gonna wear it again" wind. And because they're designer dresses, the fit, craftsmanship and high end details photograph in a way no empire waist chiffon column gown ever could.
This modern lacey sheath is perfect for a city wedding on a rooftop or in a modern gallery. It's clean, classic and flattering, with just the right hint of sexiness thanks to visible boning and the sheer lace neckline. And it's $45, so the rest of your bridesmaids' budget can go to more champagne. I love the bold gold bubble necklace paired with this model's look, and would swap the trendy strappy stilettos for something more conservative, like a nude peep toe pump. Unless you want even more bride bonus points with your girls and let them choose whatever footwear they want.
This lovely Badgley Mischka number is appropriately nicknamed the Corundum sapphire gown. Its goddess-inspired silhouette is perfect for a more formal wedding in a variety of settings, and the brighter, more violet undertones of this dress have it begging for white metal accessories. I'm not a fan of the stack on bridesmaids (probably the only scenario the stack doesn't fly) because it's too much jangling around if she wipes her eyes/readjusts her bouquet after her arms go numb/needs to surreptitiously wrangle the flower girl. I would up the ante on the statement earrings with really bold drops. Like so: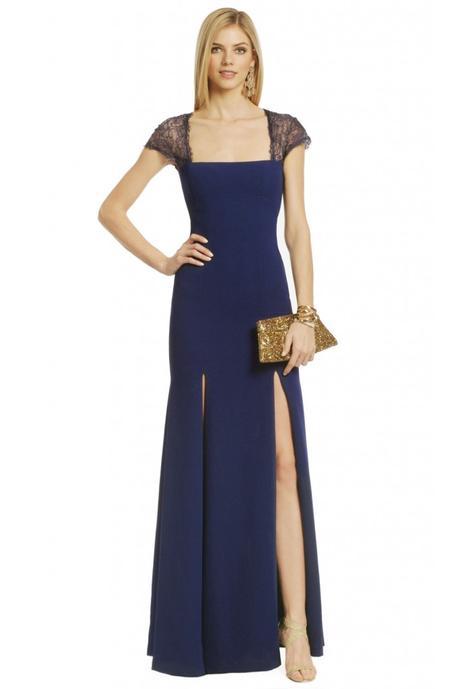 This. is. everything. The slits, the lace cap sleeves, the sheer open back. It's a sexy look for sure, so this is best suited for weddings where Grandma won't stage a walk out before you walk down the aisle. But it's edgy, perfect for black tie, and I wouldn't change a damn thing about the earrings either. I LOVE those big gold chandeliers to balance out the clean  neckline. The subtle nude/gold sandals are perfect and elongate the legs, and I love the one cuff (would just remove the bangle for the aforementioned reasons.) I would NIX that Lauren Merkin clutch though, because those things shed more than my little mutt Ruby.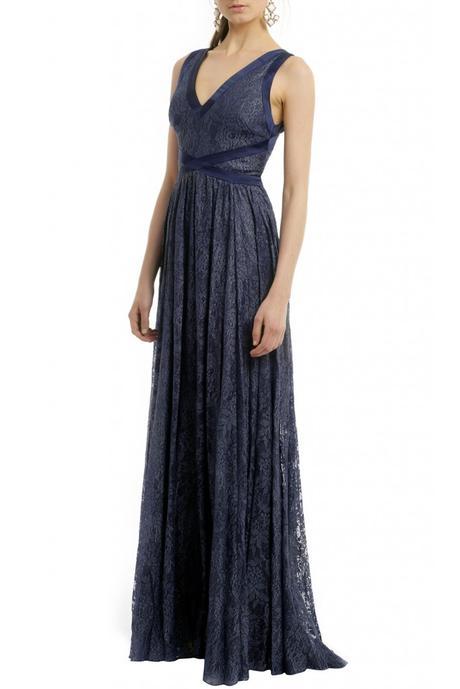 This gorgeous, modern lace gown by Badgley Mischka is an elegant look, another perfect for black tie. The lighter, slightly metallic lace makes this perfect for any season, and I'd play with the sheen by adding rose gold accessories, most likely earrings. It's only a $70 rental, so I'd probably pick up some earrings from RTR while I'm at it.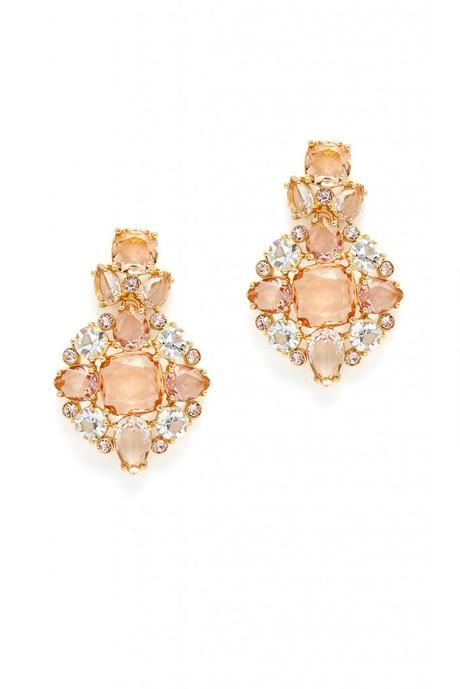 Kate Spade Make me Blush Earrings