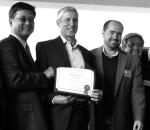 Many nostalgia buffs dream of those glistening silver trailers of yesteryear when reflecting on being transported to some romantic rural destination. But this is quite a different vision from what successful trailer retailers hope to achieve for their sales location.
They want to be at the center of industrial activity, not get away from it.
With this in mind, the grand opening of Airstream Los Angeles on Friday increased hope that other businesses will follow suit and cash in on the city's central location. The company, whose luxury line of travel trailers promotes tourism, expects its retail location in San Gabriel to be a unique destination for consumers in Southern California.
The most that Bob Wheeler, president and CEO of Ohio-based Airstream, would say about the retailer's choice of location at the event was that "there's always been this tremendous affinity for the Airstream brand and the West Coast mindset," and that "California has always been our best retail state."
Wheeler also explained how business-friendly the city was to his company, saying, "San Gabriel rolled out the red carpet for this dealership, (making) it so much easier than what it might have been otherwise." He later gave each councilmember an Honorary Airstreamer plaque in recognition of the city's support for the new dealership.
But City Manager Steven Preston provided a more strategic reason why Airstream Los Angeles has chosen San Gabriel as the company's only authorized sales and service dealership in Los Angeles County. He attributed the company's decision to the city's central and connected location – a far cry from that dreamy cut-loose West Coast vibe.
Speaking to local business owners and residents who attended the celebration, Preston explained that businesses in San Gabriel are well-positioned for access to emerging markets because this area is a key location to transporting goods as a retailer in Los Angeles.
"We're not only closer to downtown Los Angeles where you can benefit from being on the Pacific Rim, but we're also the home to the Alameda Corridor-East, the new construction of depressed rail lines that will carry products from the Los Angeles region to the ports of Los Angeles and Long Beach all across the country," Preston said.
The Alameda Corridor-East connects the national rail system near downtown Los Angeles to the ports of Los Angeles and Long Beach. The freight rail expressway is estimated to distribute $314 billion worth of trade by the year 2020, according to the Alameda Corridor-East Construction Authority.
Preston went on to explain how Airstream seemed like an ideal fit for San Gabriel, reminding listeners that the city was home to toy-maker Wham-O, known for successfully marketing the hula hoop in the 1950s.
"San Gabriel is known for its innovation and entrepreneurship," Preston said. "And, in the same way that Airstream has marked innovations in design and execution of a product, San Gabriel has been the home for its own reasons for innovative design."
Oddly enough, all this entrepreneurial rhetoric was not lost on the cheerful crowd who had just finished listening to live 1960s-inspired surf music by the band Allah-Las. If the Airstream Los Angeles dealership's grand opening signaled any hope of local economic recovery, it was seen in the party-like optimism of the 70-odd patrons at the event.
Much of the crowd inspected and took snapshots of the display of vintage Airstreams while dreaming of an adventure-filled lifestyle of escaping mediocrity by touring along picturesque golden-state highways.
Introduced in Culver City in 1931, Airstreams are now manufactured in Ohio. However, California has been the top retail state for Airstream for many years, according to Wheeler.
Ranging in price from $38,000 to $98,000, Wheeler said that consumers use the aluminum travel trailers for more than just camping or touring. He said some customers have used them for offices or to live in them.
Airstream Los Angeles is located at 1212 E. Las Tunas Drive. For more information, contact the travel trailer retailer at (626) 285-2222.
Photo: From left, Dennis Lin, president of New Century Automobile Group, Airstream CEO Bob Wheeler, San Gabriel Mayor Kevin Sawkins, and Councilmember David R. Gutierrez – Jim E. Winburn