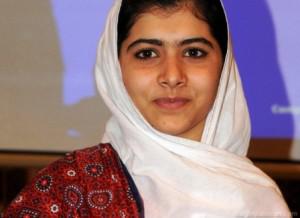 An Air ambulance from United Arab Emirates is ready to evacuate Malala Yousafzai if required. Young child activist from troubled Pakistani area of Swat is on ventilator in CMH Rawalpindi. An ISPR spokesman said that she is making steady progress. Government announced Friday as day to offer Prayers for her fast recovery.
Jamil Ahmed Khan, Pakistan's envoy to United Arab Emirates has confirmed that she will be evacuated to Dubai for further treatment.
Malala Yousafzai became an iconic figure in Pakistan by highlighting Taliban atrocities in Swat. In her online diary she expressed her love for education and wanted her school back. She was shot in head while returning from School. Two other girls were also injured in the incident. Taliban Spokesman Ehsanullah Ahsan claimed responsibility of the attack and promised another attack if she survived.
Taliban once occupied Swat and demolished most of girls' schools in the area. Ahsanullah Ahsan termed her a secular girl who qualifies to be executed. Attack on Malala Yousafzai was widely condemned both nationally as well internationally. Even well wishers of Taliban did not like attack on a female as young as 14. Pop Singer Madonna dedicated a song to Malala Yousafzai in a live concert last week.
Pakistani Government and nation is giving more than 100% to take care of Malala Yousafzai. Pakistan has already lost more than its due share of brilliant minds. Last year Pakistanis mourned the sad demise of child prodigy Arfa Karim Randhawa. Like Malala Yousafzai, Arfa also earned Pakistan a big name in very young age. She held record of youngest Microsoft Certified professional.
A team of doctors from Pakistan and abroad is keenly observing the condition of Malala Yousafzai. A meeting of the medical team was scheduled today to decide that whether she needs to be evacuated or not.
Every soul in Pakistan is praying for early recovery of Malala Yousafzai. As a nation Pakistanis are not prepared to bear another loss.
Get well Soon Malala!!!