Arriving in Morocco was a nightmare.  The girls were tired.  The taxi ride seemed to take us into the middle of nowhere.  We arrived at the hotel on a Saturday night to a huge party for the locals.  Although I loved the charm of the local dancing and tea drinking, some of the girls felt a little too jet lagged to appreciate it. 
Our first dinner was in one of the many restaurants along the beach front, and it was a little bit stressful to say the least.  We were already aware of people traveling to Morocco and experiencing unwanted attention, but five young girls with no male in the group, probably amplified the whole thing.  People jumped out of the insane beachfront crowds and surrounded our table, waiters were making a fuss of us every five minutes, and people were taking pictures as though we were escaped zoo animals.  It was all very daunting.
After dinner, we joined the swarm of locals parading along the beach front.  It was crazy.  Families with young kids were still out and about at midnight.  People were just simply 'hanging out', talking to their friends, walking.  It didn't make sense to us.  As I started to loosen up with the exciting Moroccan madness, I was taken back to reality by a pickpocket.
I was just glad that it happened to me and not one of the others.  I wasn't in the mood to deal with tears.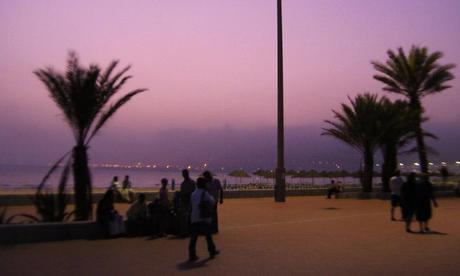 Relaxing into Moroccan Lifestyle
The culture shock on our first night was very intense.  Landing on a Saturday evening meant that we were thrown into the craziness without warning.  Sunday was much quieter and I was just pleased that the girls started to relax a little bit more.  At times, I felt as though traveling with a group of females was holding me back because I love nothing more than being thrown into the unknown; it's what makes the life of a travel writer so exciting. 
Our first day on the beach was as expected, with people trying to push their merchandise onto us, with people following us and asking us questions about where we were from, with people shouting "Fish and chips", "Shakira" or "Lovely jubbly" at us.  It was clear that we had a decision to make; we could either continue being intimidated or just accept Morocco for Morocco and just enjoy these strange gestures.
Lunch with the Locals
So that's exactly what we did.  We relaxed.  We played along.  And we enjoyed every single minute.  So much so that we started to spend time with the local people to try and understand them a little bit more.  We interrupted a family lunch and shared their tagine, but we left shortly after filling our boots just in case they wanted to buy us (which happened quite a lot).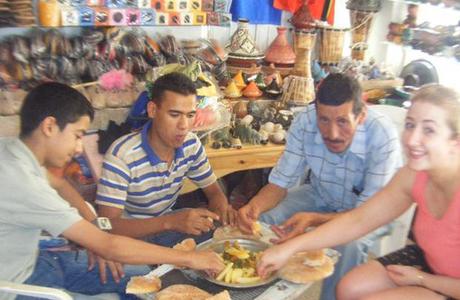 Rachel eating home made tagine, Agadir
Dancing at a Gay Club?
Clubbing in Agadir was generally a challenge.  Not only were people coming up to us in public areas such as bars, but cars of men were pulling up next to us in the street trying to get us to join them. 
There were a few incidents where we felt harassed and a little helpless, and it was difficult knowing who to trust.  After 4 nights partying in Agadir's most popular night clubs, we were pretty thick skinned. On our last night, we found an amazing club called Salammbo, tucked away as an annex of The Caribbean Village Hotel (many nightclubs are attached to hotels in Morocco).  The music was a great mash up of electro, dance and Sub-Saharan Africa.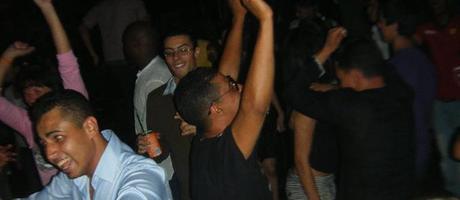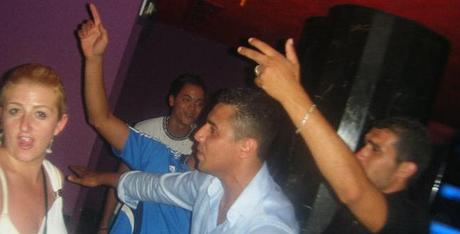 We were the only girls in the club, and as it was ten minutes in and no-one tried to hassle us, we came to the conclusion that it was a gay club.  With homosexuality being illegal in Morocco, we wondered whether we had stumbled upon the city's biggest gay secret.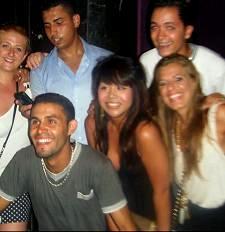 We danced all night with the locals, still being the only girls in the club, and we didn't feel uncomfortable at any point. 
As the lights came on and the music stopped at 5am, we were ready to make a dash, a simple reflex, a defence mechanism we had developed during our time in Agadir.  We were ready for outlandish offers, a thousand camels perhaps, but as we got ready to run, all we got was, "Welcome to Morocco.  Always."
They waved and disappeared into the night.