By Explo Nani-Kofi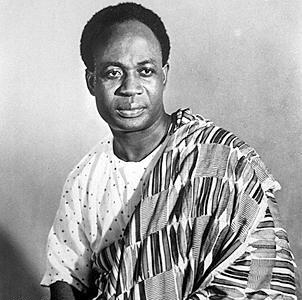 Kwame Nkrumah
Pre-independence Africa and the period which followed the liberation of the first countries of the continent from colonialism were dominated by a strong solidarity among the latter and other progressive forces from other places. Against the occupation of Africa by today's neo-colonialism through sponsored autocratic regimes and financed international organisations, it is imperative for Africans to learn from yesterday resistance which enabled to gain freedom and sustain the precarious political independence obtained in the 60s. The following note by Explo Nani-Kofi traces the experience of Ernesto Che Guevara in a number of African countries at the time.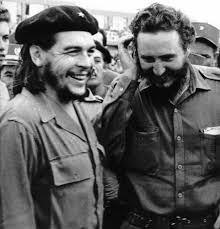 Che Guevara and Fidel Castro
Ernesto Che Guevara visited Ghana in the third week of January 1965. With news of his impending visit, Nkrumah called Ambassador Entralgo, expressing his excitement for the visit and requesting that El Che spend a few more days in Ghana to interact with many more people. El Che met with Nkrumah on the second day of his visit: a third embrace from Fidel's Cuba but this time with a man who would become a universal symbol for the fight for full independence and for Socialism in Third World countries.
This was a rare display of internationalism, heroism, selflessness and sacrifice for the wellbeing of the people. Che's delegation arrived late on the night of 14th January but held discussions the next day with the Foreign Minister, Mr. Botsio. In the early hours of Saturday 16th, Nkrumah received Commandant Guevara. They held discussions on the situation in Cuba, Latin America and in Africa most especially in the former Belgian colony of Congo.
During his week-long stay, el Che met with the press, Liberation Movements in Accra, party leaders, unionists, youth movements and women's movements and also visited the Akosombo Dam and other growing sectors. On the 20th, the eve of this departure, Che held a final meeting with the President which lasted more than two hours. Che Guevara's visit to Ghana was part of a tour of various countries including Algeria, Egypt, Guinea, Tanzania, Congo Brazzaville and Benin.
Why such an extensive tour of Africa and why those countries? The tour by el Che, together with Fidel and Raul was among the main trips the revolutionary leaders embarked on to strengthen relations with the most progressive countries and liberation movements across the continent and to offer the support of Revolutionary Cuba as was being done in Latin America. In his 1960 speech to the UN on Africa, Fidel advocated support for Nkrumah's proposal to make the continent one free of atomic weapons, "because we could not do otherwise".
In 1965, Cuba "could do other things", and was in the position to offer significant support to its ancestral continent. This contribution was based on four pillars: 1) Technical collaboration through the provision of medical and other professionals as well as scholarships to African youth to study in Cuba. 2) Military support to Independent countries whose territorial integrity was under threat. 3) Military support for countries under colonial oppression. 4) Full support in the fight against Apartheid in South Africa as well as in Namibia and Zimbabwe.
During his tour, El Che received various requests for collaboration which were sent to Cuba for consideration. Most important among these included: Collaboration through supplies and military support for Amilcar Cabral's PAIGC in Guinea Bissau. Military support for Agostinho Neto's MPLA in the Cabinda province, along the Congo Brazzaville border. Military collaboration with Congo Brazzaville under Massemba Debat when it faced invasion by the government of Mobuto and his thousands of White mercenaries. Collaboration with Kabila's guerrilla movement in the east of Congo Leopoldville.
The Cuban leadership agreed to offer this request support to its African brothers. The first group of instructors joined PAIGC forces as they entered Bissau through the Guinea border with the full support of President Sekou Toure. On April 23, 1965, three months after Che met Nkrumah in Accra, this heroic warrior with three Cuban fighters, crossed Lake Tanganyika in two small boats as they left Kigoma, Tanzania for Congolese soil, where they fought alongside Lumumba's guerrilla fighters. About 130 Cuban fighters used this same route in the following weeks as they joined what became known as Che's Column One. These fighters arrived in Tanzania and crossed the Lake with the full support of President Nyerere. I was put in charge of Column Two which we named the Patrice Lumumba Battalion.
The Commander-in-Chief thus spelt out our task, in his response to Ignacio Ramonet, Writer and author of the recent book "One hundred hours with Fidel": In July of that year, barely three months after Che's arrival in Congo, we sent a contingent of about 250 men under the leadership of Comrade Jorge Risquet. These fighters arrived in Brazzaville and were sent to defend the nationalist government of Massemba Debat and, from there, provide support to Che who found himself pushed back in the east of the other Congo. While in Brazzaville, Risquet and his men began training other guerrilla fighters. They particularly trained MPLA (People's Movement for the Liberation of Angola) fighters and within a short time had prepared enough men to create three columns who, from Brazzaville, joined Angolan guerrilla fighters. How did the 250 fighters arrive in Brazzaville? Very simple: The first 50 men, traveled by air in small groups: Havana-Moscow in a soviet aircraft which flew that route. Then Moscow-Accra, also by Aeroflot.
Most of our men carried their rifles and ammunition in their luggage because it was believed that it would provide needed security before the shipment of two hundred men, who would form the bulk of the Battalion, and the heavy arms, live ammunition and supplies for the troops. Entralgo, our Ambassador, coordinated with the Ghanaian authorities who ensured that Cubans who arrived in Ghana via this route were not subjected to checks at the airport. Such orders could only have been given at the highest levels of the Government.
I would like to take this opportunity, after almost half a century of success, to express appreciation for Ghana's show of solidarity which ensured that the vanguard of our "Patrice Lumumba Battalion" arrived quickly and safely at its destination, Brazzaville. A squadron of the Patrice Lumumba Battalion moved to the Congo's border area with Cabinda to advise MPLA guerrillas as President Agostinho Neto had requested of Che in their January meeting in Brazzaville. While there, the Cubans were met with a pleasant surprise; a Captain in the Ghanaian Army was sharing his experience with the Angolan fighters.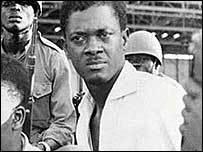 Patrice Lumumba
Nkrumah had assigned him this internationalist mission given his previous experience in Leopoldville, with the outstanding performance of Ghanaian forces with the UN. Ghanaian soldiers, as is well known, tried to protect Patrice Lumumba in the week of his tragic overthrow as Prime Minister by President Kasabuvu. Kasabuvu, Tshombe and Mobutu plotted to physically eliminate Lumumba. The decision to assassinate came from President Eisenhower of the United States. Eisenhower had publicly declared that "Lumumba is another Fidel Castro". The CIA received the criminal order to try and eliminate him.
The presence of Ghanaian, Guinean and other African troops in Leopoldville, as part of the UN contingent, prevented the execution of this criminal plot. As is widely known, Lumumba left Leopoldville for Stanleyville where Gizenga, his compatriot, had set up a resistance to the American-Belgian conspiracy, with support from the Congolese trio, mentioned above, and the UN Secretary General Dag Hammarskjöld. Lumumba was captured on his way to Stanleyville, put in prison and later handed over to Tshombe in Katanga where this despicable assassination took place.
This Ghanaian Lieutenant, one of the supporters of Lumumba in 1960, was now the instructor of the MPLA's guerrilla in Cabinda, with the Rank of Captain. His name? Kojo Tsikata. The relation between us and Tsikata was wonderful. 24th February saw the cunning overthrow of President Nkrumah. You know better than me that it sounded like the hand of imperialism was involved. Tsikata left Angola. Those of us who know him were sure that he had sought ways of entering Ghana and joining in to fight the spurious government in place.
The pro-imperialist coup d'état which overthrew Nkrumah produced deep indignation among our people. Entralgo, our Ambassador, gave all the protection he could to our friends whose lives were in danger, his wife Mary Flores, current Cuban Ambassador to the UNESCO and journalist in the Prensa Latina, Lázara Rodriguez Aleman (deceased) who met the Ambassador in a show of solidarity with our persecuted Ghanaian friends. Ambassador Entralgo was expelled by the Junta that overthrew the government.