Golf beginners have so many unanswered questions, not only about how to play the game but concerns that are taken for granted by amateurs who have already been "around the turn". Golf for Beginners answers several of these questions in this blog with the hopes of making newbies feel more comfortable around the course, not just on it.
Question 1 - The Bag Drop Dilemma
Have you driven up to the bag drop area and felt uncomfortable with someone reaching into your trunk to pull out your golf clubs? You can screech to a stop and try to outrun the greeter but, chances are, he or she will be waiting with a smile.
Let's start by saying that these ambassadors work for the golf course and get paid to help you. My suggestion? Don't fight it, always have a few small bills at the ready - it's just one of the courtesies extended by the course. Instead, focus on the game ahead and let these "friendlies" work for you. Ask them where to check in, where the putting green is located and any other uncomfortable questions you have so that you can relax and ready yourself to play your best game ever.
Question 2 - What to Do at the Front Desk
Queasy at the thought of calling a golf course for a tee time? Not sure what to do when at the desk?
There are several ways to make a tee time - you can call the course or find an online booking company who will reserve your tee time for you. Start by planning ahead and knowing the date and approximate time you (and your foursome) wish to play. Have several dates/times at the ready and a credit card although you can pay for your tee time at the front desk of many courses.
Call the course and set up your golf game. Once you know your tee time, get to the course at least a half an hour in advance so that you are on time for your tee-off!
When at the front desk, the associate will give you a receipt. Give that piece of paper to the starter - the starter has a list of all of the golfers playing golf that day. He or she will take the ticket and let you know which group you will follow...and will give you helpful tips about the course such as where the bathrooms are, where you can find drinking water on-course, where the pins are located for the day and whether or not it's a "cart-path-only" day.
Question 3 - A Teaching Pro Tip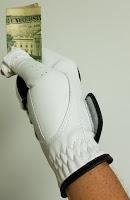 After a lesson (or a group of lessons), are you supposed to tip the pro?
You already paid for lessons and the instructor isn't offering you a service like cleaning your cleats so I would say there are better ways to show your appreciation to your teaching pro.
A few suggestions... leave a great review on his or her website (or Facebook page). If you really like the results, and your game is improving, you may want to take more lessons - this, more than anything, will probably make your pro feel like a million bucks!
Read next: Can Online Tips Hurt Your Golf Game?
What concerns do you have around the golf course? Write them down in the comments section of this golf blog and tag us with your questions on Twitter @Golf4Beginners. We will answer questions here and on social media.