I have always favoured one term varying from 4 to 5 years in the highest office of the land for any potential presidential candidate. That such individual came from a political party which has been in power for as long as anyone can remember, that does not matter. What the short period of 4 to 5 years in office will guarantee is an alternance of power. It also demonstrates an ongoing competition within the party which vies for leadership in the country. If there is not a strong opposition outside the main party, that would be a serious issue; but a strong democracy within it could also be a guarantor of democratic values outside its sphere of political influence.
This week of October 2014 everyone following world news has witnessed massive demonstrations of Burkinabe opposed to Blaise Compaore's move of changing the country's constitution to allow him another term after his 27 years in office. These popular protests are not the fact of one particular fringe of society, neither did they start recently. They encompass the majority of the people and have been ongoing for a while with different outcomes each time. The referendum that the president wanted to see voted on by the national parliament on Thursday has been the sparkler.
To achieve the level of mobilisation of masses we have seen demands a lot of organisation but also a sense of necessity for change. Back in 2011, we experienced similar social uprisings  in Tunisia, Egypt, Libya, and other countries of Africa. People wanted more political openness and public discussions on critical issues they faced such as unemployment, poor health or education, ownership of property, and more accountability from their leaders, particularly when they have been there far too long. The problem with a significant number of leaders is that they did not access in office democratically. For that reason, they find appropriate to stay as long as they like unchallenged.
A new dawn for the country of Thomas Sankara has come. I guess other dictators across the continent have been watching the events in Burkina Faso. Blaise Compaore is getting out. What can we learn?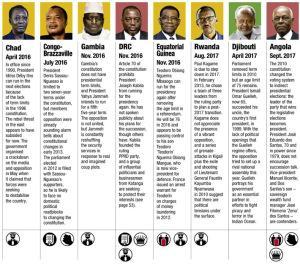 Source: Snakes & Leaders – Africa's political succession. Marshall van Valen/ The African Report
In the end of the 80s, when South African president De Klerk initiated serious negotiations with ANC, his apartheid government had been pushed in a corner where for its own survival had no other alternative. Thanks to a global and internal campaign against its system that had lasted many decades.
Today what people seeking political change in countries still under dictatorships like Uganda, Rwanda, Democratic Republic of Congo, Republic of Congo, Angola, Cameroun, etc have to count on are the many networks built over the years outside and inside. They should also understand that change for the sake of change only is not helpful. Radical change should be the main aim, since many aspects of national institutions have been corrupted by decades of bad governance. And also prepare themselves for change.

Further reading: http://therisingcontinent.wordpress.com/2013/09/24/creating-african-synergies-against-third-terms/