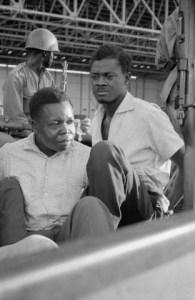 Original caption: 12/2/1960- Leopoldville, Congo- Former Prime Minister Patrice Lumumba, (right), his hands tied behind his back and without his glasses, is taken to jail after his arrest and return to Leopoldville. Troops of Colonel Mobutu seized Lumumba at the Port of Francqui. Another prisoner, Joseph Okito, former vice president of the Senate, is on the left. Image by © Bettmann/CORBIS
"Africa is not poor, but Africa is looted." 
"Africa is everything else except being a charity case." 
"Our today's heroes are defined for us by mainstream media [look at people like Jay-Z, Beyonce and many others as role models for our youth, when more than 6 millions of Congolese die and hundreds of thousands of their women and girls are raped.]" 
These are some of the quotes from speakers who presented different topics at the occasion of remembering the Congolese national hero Patrice Lumumba on Thursday 18/1/13 at SOAS – London. 
Harold Macmillan, former British Prime Minister  from 1957 to 1963, visited Africa in the 60s. After the tour he was reported saying that the continent was experiencing an unstoppable wind of change. According to him, the best which could be done [in the interests of Great Britain] was to look for effective ways of accompanying that evolution.
In that context of change, Patrice Lumumba was pushed to speak on behalf of the most oppressed people in his country – Congo. He didn't represent interests of those who had any future in the new system of after independence, in which many of the black African political leadership saw themselves as replacing the colonials but pursuing past exploitative structures of the masses.
Lumumba was an honest man. At the last of his breath, he didn't betray his nation or people. Imperialism couldn't stand his truth telling. It fought him with everything available, particularly using tribalism to get other Congolese politicians against him. At the end, in order to get rid of him, it assassinated him.
On Thursday 18th January 2013, in the week of remembering Patrice Lumumba's death, the centre for African studies at SOAS University organised a conference focusing on today's plight of Congolese people.
Different speakers at the event eloquently explained how Patrice Lumumba won against imperialism and why we need thousands of Lumumba today.
The struggle for democracy in Africa, from South to North, or East to West, is a struggle for the state in which lies the source of power in any country. Click here to listen to the speaker on this topic.
Africa is everything else except being a charity case as western media don't stop portraying the continent. Click here to listen to the speaker on this topic.