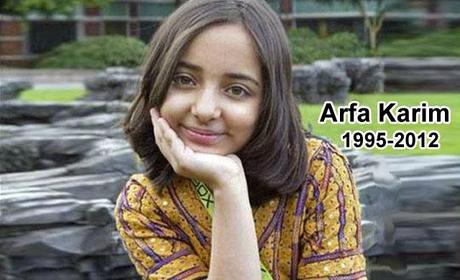 The 18th birthday of world's youngest Microsoft Certified Professional late Arfa Karim Randhawa will be celebrated today.
Born on 2 February, 1995 in Faisalabad, she became the youngest Microsoft professional after completing her MCP in 2004 at the age of only 9. She was the student of A Levels at Lahore Grammar School`s Paragon Campus.
After being given the certification, Karim was subsequently invited to visit Microsoft's headquarters in Redmond, Washington, by the found of the company Bill Gates.
Arfa, on her visit, met with Gates and other Microsoft executives and impressed them with her knowledge of programming at such a young age.
On December 22, 2011 she suffered from an epileptic attack and she fell desperately ill. After battling for life for three weeks, she succumbed to her aliment on January 14 last year. Her untimely death saddened people in Pakistan and abroad.
Arfa received the Fatima Jinnah Gold Medal in the field of science and technology, besides the Salaam Pakistan Youth Award. She also received President's Award for Pride of Performance.