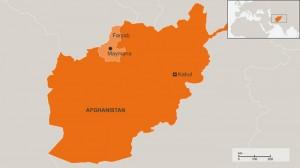 At least 41 killed in Afghanistan mosque suicide blast
At least 41 people were killed and more then 50 wounded in northern Afghanistan on Friday when a suicide bomber blew himself up outside a mosque after the Eid-al-Adha prayer, the police officials said.
According to a police spokesman Lal Mohammad Ahmadzai the attack occurred in Maimana, the capital of Faryab province.
"The suicide bomber detonated explosives when our countrymen were congratulating each other on the Eid holiday," said Lal Mohammad, adding both civilians and police officers were among the dead.
The officials said that provincial governor and police chief, who both were said to be among the prayer attendees, were escaped without any injury.
The wounded, along with the bodies were taken to the nearby hospital. Some injured are reportedly to be in serious condition and casualty toll is likely to climb.
The eye witnesses said suicide attacker was wearing a police uniform.
No group has claimed the responsibility of the attack so far but suicide bombings are a favorite weapon of Taliban insurgents, who are attempting to harm US-backed President Hamid Karzai government.
Karzai, in his Eid message, had urged the Taliban to "stop the destruction of our mosques, hospitals and schools."
Unlike south and east, which are the main focus of US-led forces, the attacks in northern Afghanistan are far less and Faryab province is considered relatively peaceful.