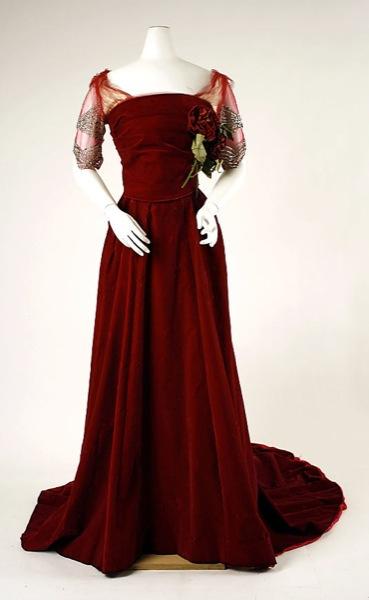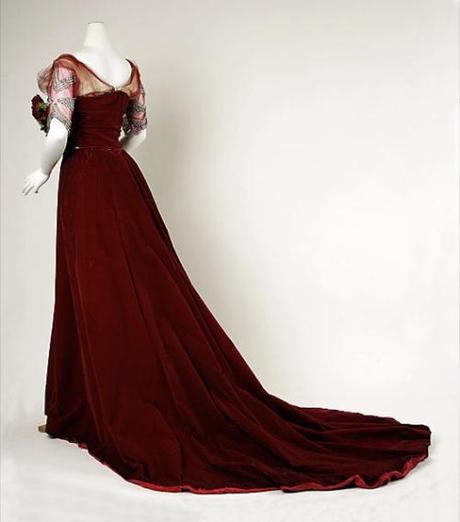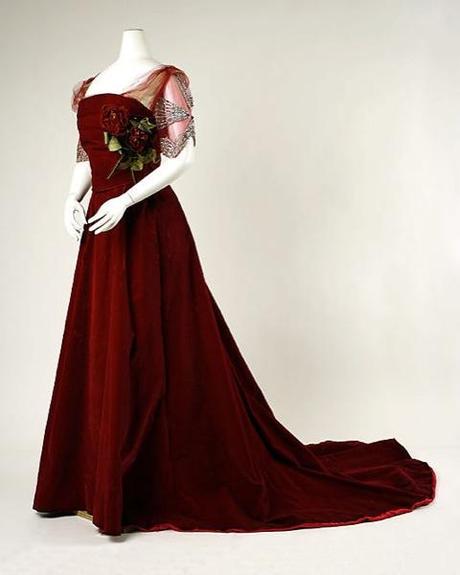 Evening gown, Worth (Paris), 1898-1900. Photo: Metropolitan Museum of Art, New York.
Okay, after all the excessive flounce and furbelow of the last couple of days, this dress is probably going to seem more than a little bit plain but honestly how could I resist that sumptuously rich berry red velvet? If the ombré flapper dress a few days ago was perfect for Downton Abbey's Lady Rose to wear to a smoky jazz club then this fabulously Christmassy Worth gown is a Lady Mary Crawley dress and no mistake – although she'd be wearing it in the spirit of nostalgia as it dates from around 1900.
Simple though it may be, this gown is beautifully restrained and, I expect, massively becoming when worn – definitely one to make an entrance in when attending a Christmas party where you expect to bump into all of your boyfriend's exes.
******
'Frothy, light hearted, gorgeous. The perfect summer read.' Minette, my young adult novel of 17th century posh doom and intrigue is now £2.02 from Amazon UK and $2.99 from Amazon US.
Blood Sisters, my novel of posh doom and iniquity during the French Revolution is just a fiver (offer is UK only sorry!) right now! Just use the clicky box on my blog sidebar to order your copy!
Follow me on Instagram.

Copyright secured by Digiprove © 2013 Melanie Clegg