<a href="http://www.yesadvertising.com">affiliate marketing</a>
Although the new iPhone 5 has recently come out, the reviews coming from the first customers are not too encouraging. In fact, the competition over the last year was mostly between Apple and Samsung. iPhone 4S clearly lost in front of Galaxy S3, so the new Apple gadget was supposed to come out on top. Things were different though and although the competition is tighter than always, there are numerous reasons wherefore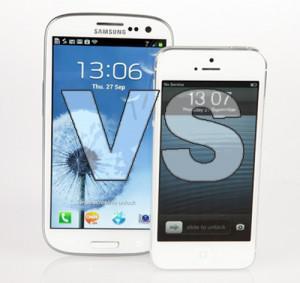 iPhone 5 still cannot beat Galaxy 3S. The rumors and hype died in the first day the new iPhone hit the market. Although the product sold quite a few millions within the first day, there are not too many reasons to purchase it. When you find yourself in a store and you don't know which one to buy, you should not waste too much time thinking if you know some basic things.
The screen
iPhone 5 brings in a 4 inch wide screen and a maximum resolution of 1,136×640 pixels. Galaxy S3 presents a 4.8 inch wide screen. The resolution is also higher – 1,280×720 pixels. Whether you like to browse the Internet, play some games or watch a movie, having a larger screen is definitely a better idea.
The storage support
Everyone knows about the Apple restrictions. Shortly, buying an Apple product will restrict you to the official store only. Although more and more people choose to unlock their phones, there are some restrictions that can never get away. The iPhone 5 internal memory goes up to 64GB, which is two times better compared to Galaxy S3 – 32GB. However, the Samsung gadget has one major advantage. It can support a memory card of up to 64GB. The Apple product cannot use such features.
The battery
Such powerful smartphones obviously eat a lot of resources, so they drain their batteries pretty fast. At some moment, they must be replaced. When you got an Apple gadget, you need to reach to a professional service for battery replacement. Samsung is less restrictive, so you can get a few batteries and replace them yourself whenever needed. It is a freedom you can always appreciate.
The operating system
Galaxy S3 is based on Android, while iPhone 5 works with iOS 6. No one can contest the benefits of iOS 6, but the restrictions that ask you to obey the manufacturer are not really worth. The Apple system is currently leading, but the growth over the past couple of years can only tell one thing – it is only a matter of time until Android fully takes over.
Near field communication
This form of communication is very common, whether you want to send some ringtones, pictures or music files to your friends. It doesn't matter if you use Bluetooth or infrared ports, as you can always do it with a Galaxy S3. Unfortunately, you will never find such features on iPhone 5. The interesting part is that Bluetooth or infrared ports are common on most mobile phones and not necessarily on the smartphones. You could use such features in the '90s too. However, no one can understand why Apple refuses to implement these facilities.

Author: Steve
Steve is a technology enthusiast and loves to always maintain himself up-dated to the most recent by following blogs like this one. In his extra time he writes articles on them too. He additionally features a 3d architectural visualization and buildings site thanks to his experience in that area. You'll want to take a look at his computer renderings site and watch some amazing high quality three dimensional illustration.