By Claire McNeill
[email protected]
Shelley Warren's search for the right life has taken her across America and through three different careers.
It has been exhilarating, exhausting, terrifying – and wonderful.
And now, at 51, Warren said she's finally figured out what it is that makes her happy: a little boy to raise and work that fulfills her.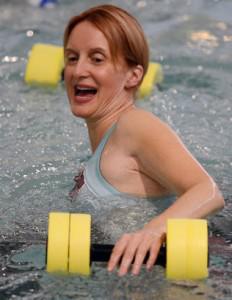 This is what she's learned: "Even if everything seems wrong, if your gut is telling you something, follow your gut. People say it all the time, but you really need to take a chance."
Growing up, Warren saw her future in the legal field.
After graduating from Appalachian State University in 1983, she got a paralegal degree.
But a vacation to England turned into a two-year love affair with the country. After her documentation wasn't enough to keep her there, she was determined to return any way she could.
She got a job as a flight attendant with Piedmont Airlines, which had just started a service from Charlotte to London. It was her ticket to England – and the rest of the United States – and she stayed with the airline for 19 years.
It wasn't the perfect job, but her time off and freedom to travel kept her in the position. "When you get to the airport, you just look around and say, 'Where do I want to go?' " she said. "You're so free."
But even the thrill of West Coast visits and new skylines faded. Her travels became a blur, and the job was physically demanding – strange hours, long nights.
'What can I do to help kids?'
Warren married a pilot in the late 1990s, but a miscarriage left her reeling as her marriage fell apart.
"It's just so sad. You have these high hopes, and this just happens," she said. "It's a big, big, big loss. It got so hard that we split up."
Warren, who lives in South Charlotte, always wanted a family, but after the divorce, she was 40 and unsure of the future.
"I thought, I might not have kids, so I thought, what can I do to help kids?" she said. She reached out to the North Carolina Division of Social Services to get licensed for foster care.
Her busy schedule with the airline meant she was better suited for "respite" – housing foster kids when foster parents need a break.
Months of interviews and paperwork were worth it when she got a call in June 2004 to take care of a little boy who was just a year and a half old.
She was scared. She had no experience. But things fell into place. She took off work and cared for him day and night, incessant screams and all.
When he left her home after 10 days, she knew things weren't over quite yet.
"I felt like I wasn't done," she said. "A couple weeks later, they called me and asked me to be his foster mom. And I said yes, yes, yes, yes, yes."
'People thought I was crazy'
Warren went from single and free to being a mother overnight.
"It was really, really life-changing," she said. "But it's the greatest thing that's ever happened to me. He's done more for me than I could ever do for him."
When she was starting out doing foster care, Warren never thought she was going to adopt.
But she knew Cameron was hers the moment Social Services called.
"I never gave it a second thought. He needed a mom, and that was it," she said.
It wasn't perfect. Cameron, who's now almost 10, cried all night long, every night, because he didn't know why he was there. He had bad respiratory problems. At first, Warren's family didn't get fully behind her decision.
"People thought I was crazy," she said. But she took it all in stride, officially adopting Cameron in 2007.
Five years after she and her husband split up, they reconnected and remarried in 2006.
"I thought, maybe this is the family we were meant to have," she said. But things crumbled again, and now the ex-husband is out of the picture.
Warren said she hates that Cameron doesn't have a father, but they're making the best of it. "We do Cub Scouts, and I go camping, and I help out. It works," she said. Help from Warren's sister and her husband are crucial, she said.
Motherhood is even bigger than she imagined. "It blows you away because one day they're a little baby, and the next day he's talking about something in the news you never knew he knew anything about," Warren said. "The changes are usually so subtle, and then one thing really hits you."
Continue Reading the Complete Article by Clicking Here