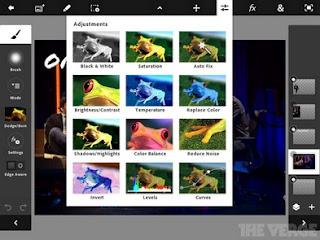 In line with plans to add support for the
Retina Display
'main product,'
Adobe Photoshop Touch
released an
update
for the optimizing for the third-generation iPad. Version 1.3 also enables Android and iOS to create and
edit images
with a resolution up to
12 megapixels
. Even so, the iPad 2 is limited due to the limited performance 10 megapixel.
Other new features include support for Brazil and Russian languages, new effects Shred and Colorize, three-finger tap to toggle between zoom, and various other bug fixes.
This application is available in the App Store and Free Store for $ 9.99, but for users who already bought it can update it for free.
origin source by The Verge