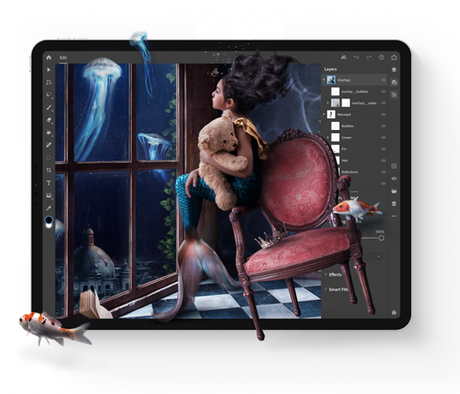 For some time now, Apple has been trying to convince its customers to ditch their laptops for the iPad. To make this transition easier for designers, a full version of Adobe Photoshop for the tablet was promised. The same was teased in October last year, and the first version of the application adapted for the Apple iPad is now available.
Adobe Photoshop features on Apple iPad
Not all features that are available in the full-fledged desktop variant are provided in the initial release. Key retouching and painting tools are available, so is the support for layer and mask manipulations. However, several animations, selection tools, and extra brushes will be added via future updates.
Integration with the Cloud
Theoretically speaking, the users shall be able to seamlessly switch between their computer and the iPad when working on their Photoshop projects. This is due to the tight integration of the application with Adobe's developing cloud platform.
A new cloud PSD file format is also rolled out. This ensures the changes made to the file are preserved on the cloud to be used later.
Adobe Photoshop for iPad pricing and download link
The app can be downloaded from here. A 30-day free trial period is offered. On its expiration, one needs to purchase a Creative Cloud subscription. Prices start at $10 per month for Photoshop and Lightroom.

Ankit writes code for a living. He reviews gadgets and books in his free time, and believes in the magical power of a strong cup of coffee.