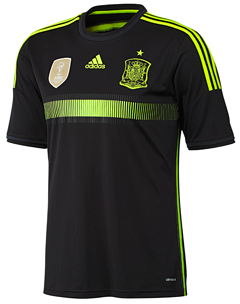 The World Cup always brings an influx of new kits, cleats, and gloves as companies try to make every single team's equipment memorable in case they win the tournament. Recently Adidas revealed the away kits of two big contenders for this year's tournaments, and they've both taken a darker look, especially the Spain kit.
The black body with neon design is an interesting choice, most reminiscent of referee kits. Germany on the other hand have a Flamengo-esque combination of red and black horizontal stripes, with a slightly more defined collar than the Spain jersey. Both of these teams will be debuting these jerseys in upcoming friendlies: Spain against Italy at the Vicente Calderon Stadium and Germany against Chile, both on March 5th.
Although these are simply friendly matches, there might be some incentive to prove something (especially for Italy) after the latest FIFA rankings were updated today. Italy moved down to eighth after Switzerland jumped up to sixth, and Spain and Germany remain in first and second untouched by the movement in the top fifteen. Portugal moved up to fourth, while England was bumped down two places to fifteenth after USA and Chile leapfrogged the three lions.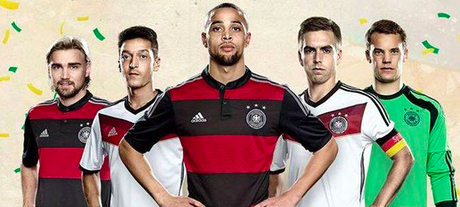 With Adidas getting ready for the big tournament in Brazil with its announcements, if you're planning to go to Brazil for the World Cup, it's important you be prepared. From knowing the cities, stadiums, and travel packages, there are many ways to ensure you get the best deal for the best experience. Here are some top tips to save money and have the best World Cup experience possible in Brazil.