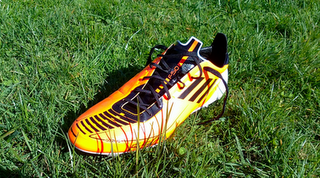 After my preview post of the Adidas F50 Adizero, the boots have finally arrived at my doorstep. After unboxing them and snapping some photos, I quickly took to the field for a quick jogging session to see how the boots felt out of the box.
While the full review will be up in a week or so, I can tell you a couple of things from my first run around in the cleats. Putting them on is a wonderful experience, the lightness just makes you want to run around and jump.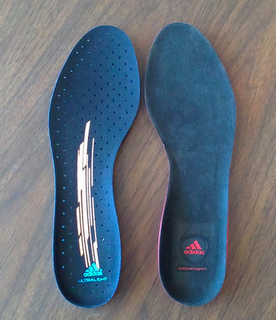 The "Ultralight" and "Comfort" insoles side by side
In my short session I went with the "Ultralight" insoles and then switched to the "Comfort" insoles to see if I could notice the difference. While I experienced to discomfort or problems breaking them in with the "Ultralight" insoles, the "Comfort" insoles were obviously much more comfortable yet slightly (barely noticeably) heavier.
While some might stray away from the idea of a synthetic upper, I'm finding it to be quite nice. I haven't tested the ball touch or striking of the cleats, and I'm not sure what to expect. Check out the full review soon if you're interested in seeing how they perform.
They're certainly shaping up to be a fantastic pair of cleats, and I'll have the review up soon.