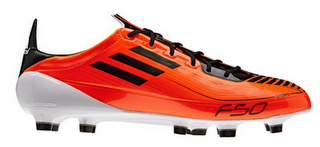 Adidas are the speed kings, there's no other way to put it. When they released the original F50 Adizero, everyone was speechless at how the German company managed to trim so much weight while maintaining a comfortable boot. Now Adidas have revamped the F50 Adizeros, making changes to the upper, visual design, and releasing the Prime version which is the lightest boot in the world.
I'll have a chance to review a pair of the
Adidas F50 Adizero
as
SoccerPro
is kindly sending me a pair. First of all, I chose to review the synthetic version of the cleats. Although many professional players decide to go with the
leather version
which is slightly heavier, I'm interested in seeing how the lighter synthetic version plays.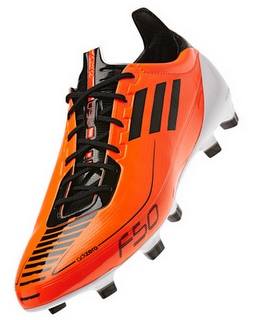 At 5.8oz (about 165 grams), these boots are only surpassed in lightweight by the
Puma V1.10 SL
and
Adidas's F50 Adizero Prime
. What enables these cleats to be so light is the Sprintskin technology, a single-layer synthetic upper which is very light. The upper is covered in thin textured lines, used to improve first touch and control on the ball. Whether these actually do make a difference compared to just a smooth upper, I'll find that out in the review.
Adidas also utilizes internal TPU support bands to keep the upper well supported. There's also a bottom frame "for increased stability and abrasion resistance" which from what I've heard is actually a very useful part of the boot. It helps increase the durability of the cleats, in an area which often falls apart first after lots of playing.
The outsole features Adidas's innovative Traxion technology, the firm ground triangular studs which offer strong grip in all directions. Among all the statistics of increased acceleration and performance, the eleven studs placed on the bottom seem to offer very solid traction. Of course, I'll share my thoughts on the studs and how they perform once I've reviewed the cleats.

Overall the Adidas F50 Adizero look like a fantastic pair of cleats, but I've yet to get my hands on them. The cleats are supplied by
SoccerPro
, and if you're interested in buying
soccer cleats
or any other type of soccer gear, I wholeheartedly recommend them.