We were in Adelaide City center for one night only. We had an early start the next morning but wanted to see what the place was about. After wandering along Rundel Mall a couple of times, there wasn't really anything that grabbed us.
With my husband being a bit of a wannabe hipster, he googled 'hipster Adelaide' and found a blog mentioning a 'new street in town'. 

Leigh Street, it said, was the hipster street of Adelaide City. The place 

where suits and hipsters meet. 

Well I guess we better check it out then! 




Walking along it literally took a couple of minutes. A tapas bar and a few restaurants greeted us. Japanese, Korean, Thai, Italian. 

A

 few bits of street art were dotted around in the side alleys. Pretty cute, but it 

wasn't the buzzing hub of activity we were hoping for. It was a Monday night, to be fair. 

We went into Udiberry for a drink, which looked like a pretty cool bar, and as we walked in they were playing Al Green - a good start. 

As we sat and took in our surroundings, we realised that this was what made Leigh street hipster. The bar staff were all pretty cool and bearded (obv), and the DJ was a hairy, scruffy guy playing funk on vinyl. Their current on tap beers and ciders were listed on the wall in chalk. We tried a couple before ordering tapas, and noticing that even the chef was geek-chic. A scrawny guy in a check shirt (done up to the top), jeans and apron with a beard and thick rimmed glasses. We liked this place. 

The tapas was delicious, particularly the chorizo, the mushrooms with egg yolk on top and the fish croquettes.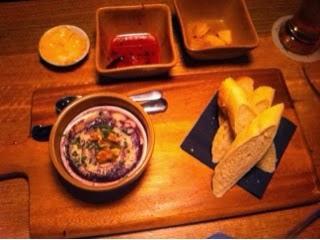 After food we started looking at the bar checking out their selection of rums. A barman approached and basically gave us a class on each of the rums they had - where they were from, how they were made, flavours added, how refined they were. Very impressive.
Seeing as Goslings rum was apparently the reason Dark and Stormys were invented, I had to have it. Goslings also made their own ginger beer especially for the drink. I must find it! In this case they used bundaberg ginger beer instead, which is pretty tasty. Jon sipped on straight Berry's rum, because it's by appointment of the queen, which means it must be good, in his book. 
Pleased with our first rum experience in Oz, we behaved and headed home a little jolly, anticipating out early start the next morning.