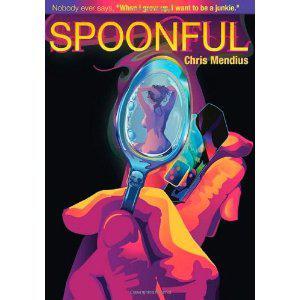 Coming-of-Age Drug Novels


Call it "addiction fiction." In the past few years we have seen a blossoming of this genre, where the private eye goes to 12-Step meetings, and one day your sponsor may just save your life by gunning down a rival in the street. Or, where the wise-beyond-their-years prep school drug addicts engage in Brett Easton Ellis-style sex and ennui.
Fiction readers of a certain age will recall that this is not a new thing under the sun. From Junky to The Man With the Golden Arm, from Naked Lunch to Less Than Zero, drug novels have always been with us. Addiction fiction has two distinct subgenres: addicts with money, and addicts without money. For obvious reasons, the latter genre is the prevailing one—Trainspotting and Requiem for a Dream come to mind. But the wealthy end of the spectrum is not without representation. Consider The Basketball Diaries, or Bright Lights, Big City.
As an example of the first type of book, the one where the addict has no money, we have Spoonful, by first-time author Chris Mendius. As for the upscale second type, there is the recently released novel, No Alternative,  by William Dickerson, a budding film director with an MFA. I would judge both authors to be well south of the age of 40, making both of them pure examples of Generation X. 
Ah, the 90s. As time passes, it seems clear that the death of Kurt Cobain has been added to the touchstones of American youth culture, in a tradition going back to the 60s. Where were you when Kennedy died? When Lennon died? When Cobain died? This last question matters, since Nirvana and Cobain are threaded thematically through both of these new novels. As Chris Willman wrote at Stop the Presses: "April 5 is to many contemporary rock fans what November 22 is to older baby boomers: the day you can almost certainly remember where you were or what you were doing when you heard that ___ died. That's not to say that Kurt Cobain's suicide represented a loss of national innocence in the same way that JFK's assassination did. For one thing, Cobain's whole life and career already symbolized lost innocence, long before he died."
In Generation X drug novels, lost innocence isn't lost—there was never any innocence in the first place.
Michael, the narrator of Spoonful, is the kind of drug addict with no money. Michael is forthright, if not one to probe the philosophical ironies of his condition: "Nobody ever says, 'When I grow up, I want to be a junkie.'" End of story. Well, the beginning, really. In this well-written junky novel, author Chris Mendius brings his tragic characters to life in a manner that calls to mind Hubert Selby, Jr.'s stark New York classics of addiction without redemption.
Set in Chicago's Wicker Park area, young Michael and his pal Sal find their way to heroin in a hurry. They also quickly learn the flip side of the illness—the sickness of withdrawal, "like having a debilitating combination of food poisoning and the flu, with periodic muscle cramps." No matter. "Once we made it through all that, we decided to stay off dope. A month passed with no discernible improvement in our lives and we promptly resumed getting high."
It's heroin he craves. Michael is no fan of cocaine: "You're up all night, running your mouth, jaw twitching, nose burning. You might want to fuck but you can't. All you can do is keep going. Before you know it, the birds are chirping and the garbage trucks are rolling. You're out hundreds of dollars and for what?" And they scoff at pharmaceutical efforts at non-addictive synthetic opiates, "engineered to not let anyone feel a moment of undeserved pleasure." One character likens kicking methadone to "getting your skin pulled off with pliers."
The debate over freely distributing the drug naloxone as an anti-OD safety measure is referred to obliquely: "That's the thing with smack. It's a fine line between the time of your life and the end of your life…. More often than not, the difference between life and death was having someone there to revive you or call somebody who could."
Mendius is good at drawing a picture of the addict's endless grind: "Finding the ways and means to score is a twenty-four-seven gig. You might get lucky and hit it big now and then but you're always looking ahead. Plotting. Planning. No matter how much you get or how close the scrape, you always gotta keep at it. Day in and day out."
Michael never quits for long, and when he is off heroin, he buries himself in marijuana and booze. There is no redemptive ending. He walks off into the sunset.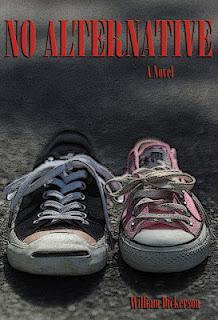 From seedy Chicago to the upper reaches of Westchester, New York. Like Spoonful, No Alternative by William Dickerson features characters whose collective memory goes back no farther than the 80s. Which sucked, as we all know, and as Thomas, the narrator, never tires of telling us. Thomas and his friends are drug and alcohol abusers with money. The drugs of choice are prescription medications, not heroin or cocaine, for these products of Fordham Prep. 
It is 1994, and the grunge youth of Yonkers, the children of Vietnam vets and hippies, are rootless and confused. "There was no clear-cut path beckoning them. No modus operandi." It was a generation, Dickerson writes, that "earned a label that was just about as vague as their sense of what to do with their lives: Generation X." In this version, not much has changed since the crack-crazy L.A. 80s of Brett Easton Ellis. The names and the drugs have been altered, but otherwise the trappings are indistinguishable: high disposable income and excessive ennui.
Thomas supports his crazy little sister Bridget, who becomes a white rapper named Bri Da B. His sister's drug of choice is cutting herself: "She was determined to be in control. If she was going to bleed, it was going to be a decision, it was going to be controlled, and she was going to bleed everywhere, not just from the abyss between her legs. If pain was to be a constant, might as well get used to it and build up a tolerance."
No Alternative is readable enough, but it does not carry the campy forward motion of other rich-kid addiction books. It is more measured, dry, and there is an odd hitch in the narration, which is resolved, rather shakily, at the end, with a big Reveal that distracts the reader from the central relationships in the story.
So, two early novels, by promising young writers, about drugs and what they do to you. It will be interesting to find out what becomes of these authors, and what manner of new work they get up to in the future. The story never ends where you think it does.