Today we will learn learn how to add snow falling widget in blogger. first i will tell you about this widget how it works 
this is a cool widget which create beautiful winter leave and falling snow and leave effect.It create beautiful scene.

It looks more beautiful if you blog background is dark because all you know snow is white hence this looks more awesome if
your blog have dark color template.This make snow falling looks prominent.If your blog template color is whit then you
see nothing prominent.so use dark color template.
Also: 
Add pinterest pin it button on images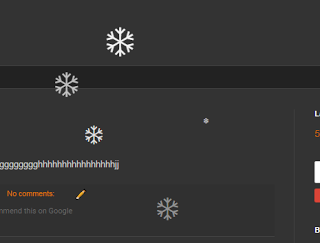 How to add snow Falling widget in blog
Adding the widget consist of two steps
First login to your blogger account then go to template and edit html.
After that click inside the template code area and press ctrl+f you will see new search box open.
Search this piece of code
</head>
Then paste given code above </head>
<script src="https://ajax.googleapis.com/ajax/libs/jquery/1.7.1/jquery.js"><script type="text/javascript">//</script><script>$(document).ready( function(){ $.fn.snow({ minSize: 10, maxSize: 50, newOn: 400, flakeColor: '#ffffff' }); });</script><a href="http://5gblogger.blogspot.com" alt="Blogger seo widget"><img src="http://img1.blogblog.com/img/blank.gif" /></a>
I have test this widget working fine.But If you have any problem just ask to me.