Hello Fashionista's ! I hope everyone is enjoying the turning of the season's and staying fabulous as usual. This week has been an amazing one, why you ask? Because I had the pleasure of meeting the amazing Adam Lippes for ADAM at Saks Fifth Avenue this week. Banana's right ! Saks was so gracious in letting us come in and meet with Adam all the while joining them for their Hand in Paw event that evening as well. I present  Mr. Adam Lippes…….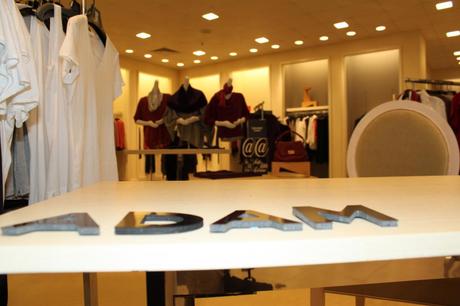 Keicia  Shanta : Hello Adam ! It is really good to meet you! You did an amazing presentation at New York Fashion Week . Totally amazing .
Adam Lippes: Thank you very much. (smiling)
Keicia Shanta: Are you ready ? 
Adam Lippes : Yes I am ready ….
Keicia Shanta: Let's start off with Spring Ready to Wear 2012, where  did you draw your inspiration from for this collection ?
Adam Lippes: "People I see in the streets… but really my core friends, my core group of friends and people I meet when I travel and seeing how they dress and what they are wearing . "How they put it together, but of course we draw inspiration from different certain things to get inspired. "I was inspired by an exhibit at The Gozian….  the Picasso pictures of one of his love affairs and just  the colors were so cool and modern..so modern it was just different. "With all these pastels  colors  which  you saw in the show the color story definitely came from this show ..this Picasso show". "From  the Pastels to some of the real  brights …and we are lucky enough to be in the Meat Packing District , our office sits  (he begins to draw a map on the desk ) here is the Hudson River ,then the Meat packing Park which is the Highline is what it's called" ." So it's an old elevated train track that has  now become  a park and if runs Forty blocks and it's the busiest park in New York City"."  Our office is right here so we look out onto the park and onto the river , so  watching people everyday there it's like look at her or look at him …so it's cool .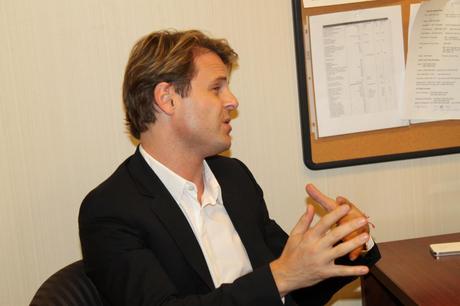 Keicia Shanta: "That is cool" ! " To draw inspiration from people around you to create such an amazing collection , I loved it !"
Adam Lippes: "Thank you very much !"
Keicia Shanta:" Since we are talking about that collection ,  the pairing of the black  military jacket with the sheer top and white pants and also the pairing of the red military jacket with the lace white dress..what encourages you to take those chances "?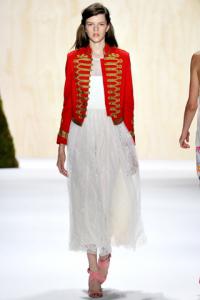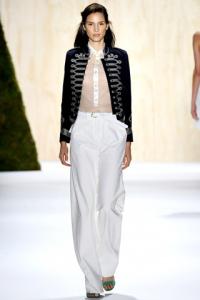 Adam Lippes : "We just like to mix it up a little bit, I think it's  how girls  dress today . At least the girls I know, they are not going in buying one designer  from head to toe and wearing their whole brand normally, they wanna have fun with clothes." They wanna throw on some style  they wanna mix and match …so the idea of the band leader jacket actually was like  oh I have had this for a long time and I am gonna throw it over unexpected things." Dress in unexpected ways and mix it up and it will still work."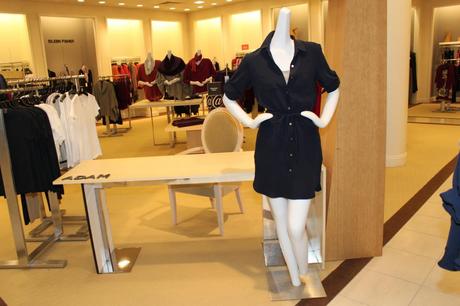 Keicia Shanta: I love that look !
Adam Lippes: Yeah that's a good look….(smiling ) 
Keicia Shanta : I agree…..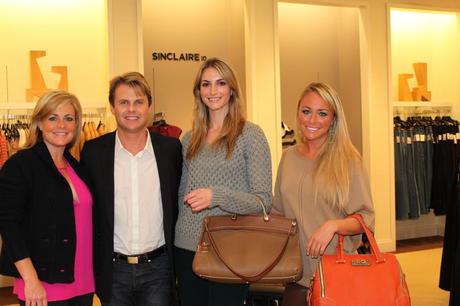 Keicia Shanta:" Your Fall 2011 Collection was reviewed as it having a Native American Influence , do you agree?"
Adam Lippes: "Yeah  definitely ,there is a small native american museum in the financial district in New York  where I had never been and I went  to look and it was so so so beautiful and the print inspiration , the material inspiration the color came from there. "One of the prints was like a Navajo diamond print and it pretty much came directly  from there, we just took it and redrew  the design ourselves …we did it in our own colors" . "The embroidery , the gold thread embroidery and also in print ." It was interesting because the Native American inspiration then wound up being the thread in a lot of designers , because we show first we didn't copy anyone"
Keicia Shanta : Yeah ..that's right …Wow!
Keicia Shanta : So let me ask you what influence did working for Ralph Lauren and Oscar de la Renta encourage you to create you own line?
Adam Lippes:" Well I worked for Ralph Lauren for a year , it was a good experience, it was my first experience. I didn't go to school for fashion I went for psychology so it was my first foot in the world of fashion ." It was at Oscar de la Renta where I really grew up, I started there as an assistant and  became creative director over time." I was taking on more and more and more roles but I wanted to always do my own thing , I had that in my blood."  So after being at Oscar's for almost seven years  I decided that I was gonna start my own business." He  actually was very supportive , he allowed me keep working while I kept my business on the side." "He helped finance it ..so he is very much old school in that way  where he let me learn on the job and help me start something new."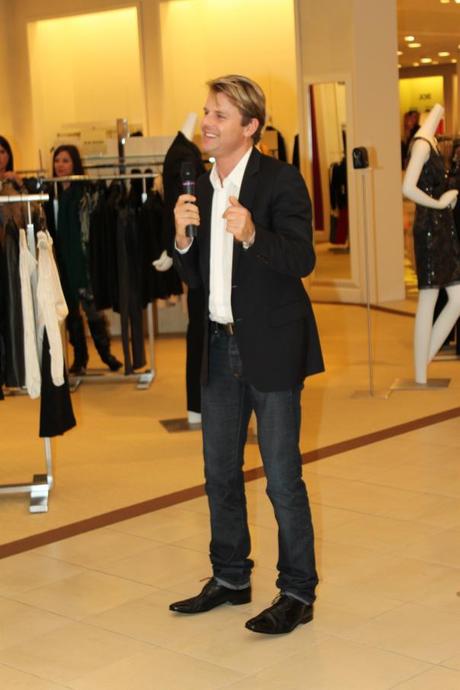 Keicia Shanta: "That's an amazing experience!"
Adam Lippes :"Yeah ..I am very lucky to have had that experience."
Keicia Shanta : You went to college for psychology what drew you to fashion , to become a designer ?"
Adam Lippes :" I always wanted to become a fashion designer, it just was something I thought really  I could  do . I wasn't supposed to do that , I was supposed to be business person or something like that . " I lived in Paris for a year when I was a junior in college and it was the first time that I was surrounded by people who really  worked in fashion ".  From what I can remember from the time ..I thought…. God I can really do this, this really can be a career! " All these people here work in fashion so this could really be a career for me ." So I went back finished  college and said I have to find out how to work in fashion ." I did what I needed to do to get my foot in the door."
Keicia Shanta : And you are doing a really good job at , really inspiring .
Adam Lippes : Thanks…(laughing)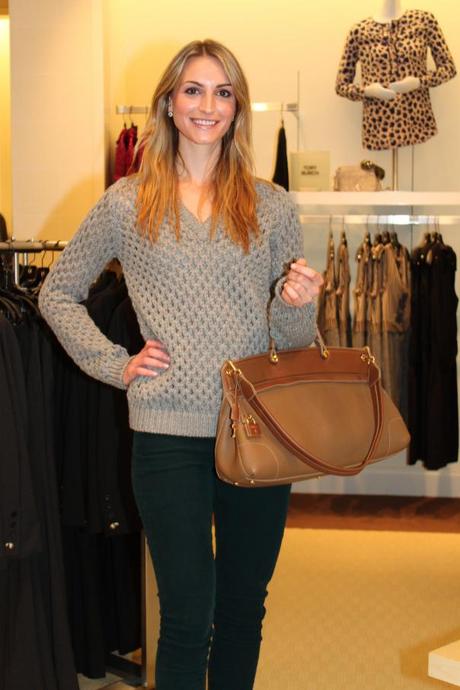 Keicia Shanta : So what advice would you give to the next aspiring fashion designer that wants to make it to Fashion Week , that wants to make it on that level ?
Adam Lippes : "Oh I hear people say I wanna do it how you did  it ….well I…… like  got really lucky ..(laughing )! Go to school , start by going to school for fashion . Intern at a fashion company learn what part of fashion you like . You know in New York City which is the biggest economy ,the biggest city economy in  America ….I would assume I am saying that  right … don't quote me ! " Finance is the  number 1 business in New York City and Fashion is number 2 , so it's a big business, there is  lot"s  of parts to fashion." Like Christine here ..( Christine is his gorgeous and tall assistant) she goes around to stores and helps merchandise and works on events and things". There are so many different things you can do in fashion ….design is just a small part of it ." So go to school for it  make sure you want to do it intern and get practice work on the job. Really learn …..get  practice from the best places that you can ."
Adam Lippes :" Fashion lives through interns , so every company has tons of interns. That is something different from a lot of businesses is that we really embrace the young kids and bring them into intern." It's also free help , but still at least we allow them in and so you can figure out what you want to do and if you want to do it ".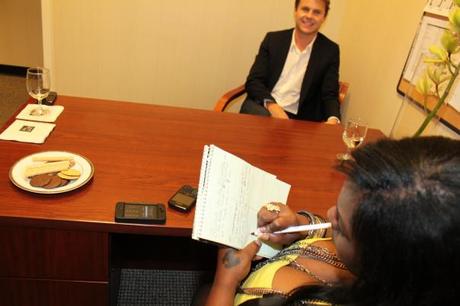 Keicia Shanta : "So what's next for ADAM?"
Adam Lippes : "We are working on  hand bag's now  and accessories ." We are working on more store locations and  we are growing we are almost at 300 stores… in country's all over the world ." We keep picking up  more and more international  and were growing. We do a little bit of men's so we will be doing more men's going forward. We just re-launched  our Basic's ..so we took our T-shits..(I started out with T-shirts) and we have added lots of fabrics and lots of colors , they hit the floors soon. Very soon.
Keicia Shanta : Thanks so much for sitting down with Fashioncrush today , I am going to see the line in store before the mixer ….
Adam Lippes : 'Yes go and see , they don't have the 2012 RTW on the floor as of yet …but …'
Keicia Shanta : I am sure whatever they have it's amazing all the same….enjoy your lunch and many blessings going forward
Adam Lippes: 'Thank you ..see you shortly.'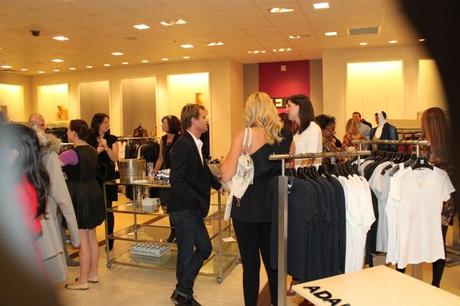 I was outdone …an amazing designer and an amazing night . I want to thank the wonderful Ms. Jefferson  from Saks Fifth Avenue for the opportunity to speak with  Mr. Lippes……….Banana's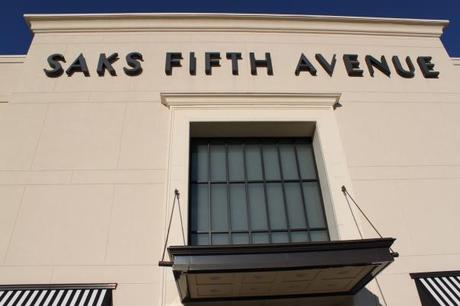 Until next time ………………..
Stay Fly………..