I believe this is the first time I have reviewed Action Comics.  I may have done one early on in the relaunch, but I can't remember.  I just know that I dropped off this title, and virtually all Superman solo titles, quite some time ago.  Thanks to Superman: Doomed, I have expanded out and read all the issues of the story so far.  Action Comics under Greg Pak is a totally different beast than what it was the last time I read it.  It's actually really good.  At least issue #31 was, but what about #32?  Let's find out.
Action Comics #32 is part 5 of the Superman: Doomed story.  Overall, I've been really impressed with this story with the only weak issue so far being Superman #31, but that was the last issue before Johns/Romita Jr take over.  It's been interesting because even though the Doomed storyline is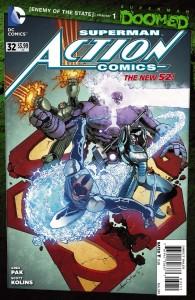 connected, each book also continues existing storylines.  This can be a little confusing for someone like me that hasn't been reading Superman or Action Comics.  But hey, that's the price I pay for not keeping up with things. 
As far as the Doomed story, Superman continues to fight the Doomsday virus that is taking him over and he ends up meeting with Steel as he tries to get Superman to go to the moon with him.  Everyone, including Superman, now knows that he is infected and is a danger to the entire world.  At the same time, a plan is put in to place by Senator Lane using John Corbin to eliminate Superman and the threat he has become.  This allows Steel to really shine.  I've never really cared for the character, but the Doomed storyline is becoming a stand out story for him.  He stood up to Doomsday before Superman came and he is now putting everything on the line to help Superman find a cure.  It's good stuff and Pak handles it all really, really well.
I've got to tell you, if this is what Action Comics has been like under Pak, then I'm a fool for not reading it more.  He does a great job of internalizing Superman's struggle to contain the Doomsday virus and also allows other characters to have their moment.  It's a very solid issue that moves the Doomed story forward to the next chapter in Superman/Wonder Woman #9. 
Written by Grek Pak
Art by Scott Kolins
Cover by Aaron Kuder 
Share on Tumblr