Marvellous design
Sleek and slim tech design has been the trend lately and Acer Aspire 5600U fully lives up to the expectations. Announced a month ago, Acer Aspire 5600U is now out with its technical specifications, which inevitably promises to take out on its rivals. This elegant power performer is crafted from genuine, top-quality materials and is redesigned with an amazingly slim profile – narrowing down the width at less than 35mm – is also packed with advanced features to deliver an unmatched premium performance, with a full HD touch-screen. The hard drive, Blu-ray player and screen are fitted into a semi-transparent enclosure, while the wireless keyboard and the stylish mouse well match the panache with a decoration on transparent material. An ability of 60-degree angle reclines and VESA wall mount add to the viewing pleasure.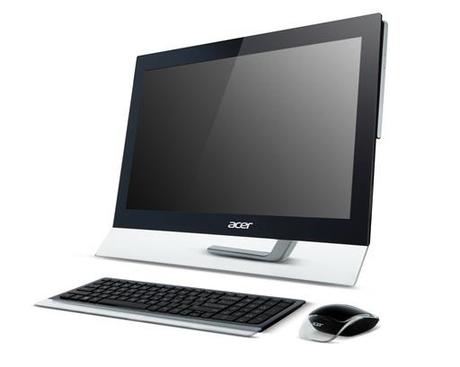 Acer Aspire 5600U
Cutting Edge Display  
Featuring an impressive 23'' edge-to-edge frameless screen with a resolution of 1920 by 1080 pixels and fast 5ms response, Acer Aspire 5600U sports an advanced ultra-thin display for crystal-clear image quality; rich, vibrant colours and wider viewing angles that make it perfect for business presentations, graphics-intensive applications, games and entertainment.
Powerhouse
Acer Aspire 5600U may well attract all the attention for its iconic beauty and stylish looks, but under the hood, this machine redefines and challenges the very notion of what a PC can be. It comes with a choice of Intel's latest Core i3 and Core i5 processors, which is committed to deliver unparalleled speed and efficiency. The intense power of a discrete NVIDIA GeForce GT630M graphics chip and up to 8GB of DDR3 RAM support would give high definition content like games and HD movies a sensational boost.
Unparalleled Touch experience
An advanced 10 point touch technology ensures Acer Aspire 5600U to provide a smooth and highly responsive multi-touch experience, which is enhanced ergonomically. In addition to that, improved gesture recognition promises a faster, more intuitive and fun experience.
Connectivity Options
Acer Aspire 5600U features two USB 3.0 ports, three USB 2.0 ports, multi-in-one card reader, one HDMI output and one HDMI input, Ethernet, Wi-Fi and a TV tuner – to integrate the power and speed of a PC with the features of an HDTV.
Innovation
The brand new Acer Aspire 5600U also sports the innovative "Acer Instant on" and "Acer Always Connect" technologies, which enable data upload and retrieval, when connected to a 20GB SSD.
"Acer Always Connect" technology helps users get online faster than ever and more conveniently than the conventional connections for better productivity and entertainment. Users can see instant Facebook, Twitter, Outlook email updates, upon resuming the service.