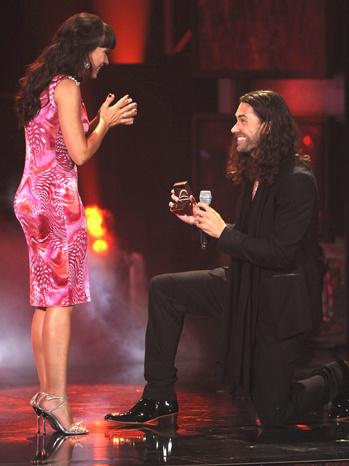 Last week on Wednesday, the audiences across the globe witnessed the surprise proposal of Ace Young to his beau Diana DeGarmo. This scheme unfolded on the final of American Idol's finale. Before the finalist Phillip Phillips was declared the winner of the title, the ceremony was performed. The two former competitors were called upon stage by host Ryan Seacrest, where they got engaged while the show was aired live.
With the lights dim, Young, 31, said, "This has always been home to us and I felt that this would be the perfect place to ask a simple question."
The proposal was traditional with Ace kneeling down on his knee and said, "We have conquered Broadway together. We have created our new music together. We have an amazing group of people around us. And with the help of David Webb jewellery, I have a way to make this last forever. Are you ready?"
He further added, "I love you to death. You're my best friend. I want to make this last forever and I will do anything in my power to have the most… amazing life together if you will have me. Diana Nicole DeGarmo, will you marry me?"
With this he held out a stunning diamond engagement ring. Ace had selected an 18-karat yellow gold, platinum diamond engagement ring to present to long-time girlfriend.
This David Webb ring features a 1-ct center stone in fancy yellow colour, along with two side diamonds weighing .2 carats each. Young helped in designing the ring as he wished to gift an engagement ring that goes with DeGarmo's preference.
About a month ago, Diana had commented, "Gold needs to come back". Also her liking for sunflower and the color yellow is a known fact. He put together these factors and designed this ring, recreating a feel of a golden yellow sunflower.
Tearful Diana, 24, said yes and replied, "I'm so speechless right now".
The couple met in the spring of 2010, when they both appeared in the Broadway revival of the musical "Hair". DeGarmo appeared on the show's Season 3, while Young came in Season 5.
Though the wedding dates haven't been decided yet, but Young said he's leaving that decision to his bride-to-be.
"Everything is up to her", said Young. "I did my part. If she wanted to do it today I would say OK and get my outfit. I am just trying to take it all in right now".