The first thing most newly engaged women think about (after the romance of the proposal has had time to sink in, of course) is the dress. If you are anything like me, you'll have been imagining wearing a wedding dress since you were a young girl, and the likelihood is you already have an idea in mind of the sort of thing you are after. Accessories, however, are a whole different ball game. Most little girls dreaming of marrying their prince don't pay much attention to what shoes they are going to wear, or what jewellery to match to their dress. It can therefore be a bit daunting when you realise that you have the dress of your dreams but have absolutely no idea what to put with it. After some careful consideration, here's what I've ended up choosing to accessorize my vintage 1970s maxi dress with on the big day:
Shoes
I mentioned my rather unconventional wedding shoes in the first ever post that I wrote for English Wedding. My dress is long and I didn't much fancy tripping on the hem as I walked down the aisle, so I was able to eliminate the idea of heels fairly quickly. Which is all well and good, but have you ever opened a wedding magazine and been dazzled by the array of flat shoes available? No, me neither. I decided to take matters in to my own hands and purchased a pair of green Primark flats, which I customised with skeleton leaves. I'm pretty pleased with the results, and the green ties in prettily with the two bands of 70s floral fabric that decorate the bottom of the dress.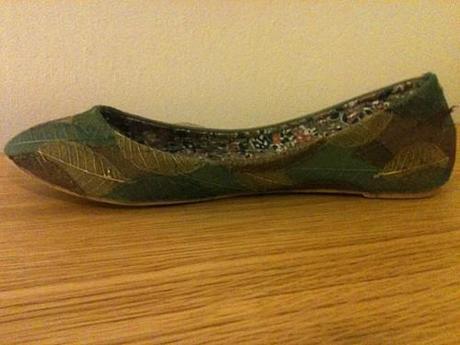 Jewellery
You may have grasped by now that I'm not going down the traditional root with my wedding outfit. Whilst there is plenty of stunning pearl and diamond jewellery out there, I wanted to keep mine to a minimum to match the simplicity of the dress. I've always been a fan of jewellery brand Dogeared, and found a bracelet and earring set by them on ASOS which is absolutely perfect. Called 'Love and Luck', the set consists of a pair of gold earrings shaped like little four-leaf clovers, and a little bracelet adorned with a gold dipped heart. The heart is threaded on a thin piece of linen and the idea is that you make a wish when you tie it on. You then keep wearing it until the linen breaks and the charm falls off, following which your wish will come true.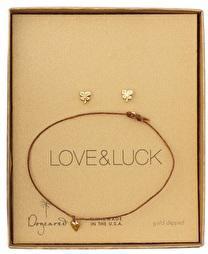 Headpiece
It had to be a flower garland, really, to match the hippy feel of the dress. Although I won't be wearing my hair down in true Bohemian style, I will be wearing a sweet and simple artificial garland of white flowers that I bought in Accessorize. If you like the idea of a pretty flower garland you could also check out www.thedarlingbudsofkaye.co.uk – I recently came across one of their ads in a wedding magazine and it looks like they have some pretty things.
Garter
I wasn't sure if I wanted to go down the garter route or not, but my mind was made up when I came across Folksy seller Debbie Howe. Debbie makes personalised garters in a variety of styles, with your new married name stitched on to it. They are a lot of fun and I just had to have one. I will be wearing it under my going away outfit rather than my wedding dress, so had the name stitched on in royal blue to match my skirt.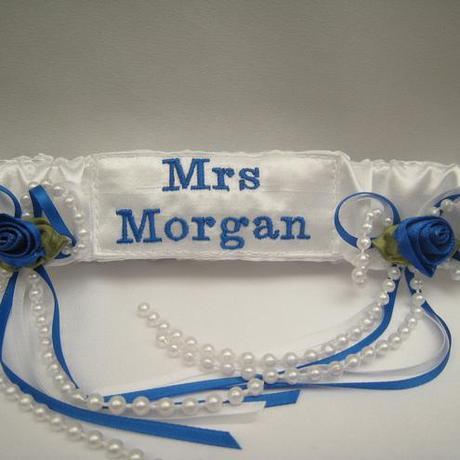 You can read more of my wedding plans so far on my blog Edible Glitter. My most recent wedding posts include:
Matthew Williamson Bridal Collection
Wishing Tree
The Crockery Cupboard – Vintage China Hire
And of course stay tuned for more of my thoughts here on English Wedding.