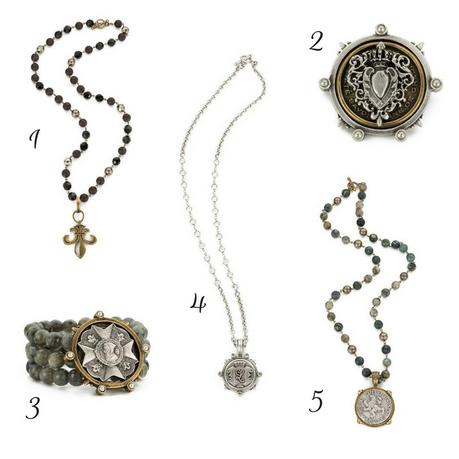 Ever since I visited the French Kande studio in June and got a sneak peek at the gorgeous pieces Kande was designing for Fall, I've been chomping at the bit to see the full collection online and be able to share it with you. It's here, and just as fabulous as I remembered!
This season, there are actually two new collections:
"Tuileries," featuring some new vintage medallions and stones such as garnet and serpentine which harmonize nicely with autumn colors. For those who love brooches, she's also added a few to the mix!
"Initiale," which offers several styles of necklaces and bracelets with a medallion that can be customized with your initial.
All of these are designed and manufactured in Los Angeles, and each piece is individually made on order.
Shown above, some of the pieces that caught my eye immediately:
29″ Garnet Mix with Grande Fleur pendant. This would complement and layer nicely with vintage medallion pieces.
Centennial Heart Stack Medallion brooch. Love that there are now brooches in the collection! Cool new medallion too.
Triple-strand labradorite with Bravoure medallion. Neutral and subtle, but those faceted beads catch the light nicely.
30″ Swarovski crystal necklace with initial pendant. Add your initial to this elegant pendant with black diamond cabuchons.
28″ Forest Mix beads with Daalder medallion. Beautiful mix of stone beads, and I love that the medallion was created for a master coffee roaster…Ok, so this one just may be in my shopping cart…
A few of you have asked me if I had to pick one French Kande necklace to start with, what I would choose. That's a tough question, as it depends on your style and metal/color preferences. But I would suggest one of the mid-length (26″ to 30″) necklaces as a starter piece. I like this length worn on its own, and find it easiest to layer with other longer or shorter pieces. If you don't wear necklaces, the bracelets, rings and (now) brooches are fun choices, and look great worn in multiples.
Even if you don't want to layer, each of these pieces on their own are bold and will get noticed. I'm complimented on my French Kande pieces whenever I wear them, by women (and men!) of all ages.
Do you like to layer your jewelry, or wear sparingly?