Access Nova Scotia Online Civic Map Viewer
Most people are aware that every home and business in Nova Scotia is assigned a civic address consisting of a street name, civic number, community and county names but what they are not aware is often how to find out what their proper civic address is.
So the Provincial Government came up with the Nova Scotia Civic Address Project (NSCAF) witch is a geo-referenced provincial digital civic address data file that has been combined with user-friendly online web applications. The online mapping tool is managed by the Nova Scotia Geomatics Centre as they do for the rest of the Provinces maps.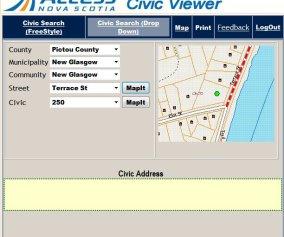 The Access Nova Scotia Civic Viewer is the online mapping application used to view civic map information, with a free public viewer version and another version containing more information for certain parties that need more detailed information and the ability to update the information of the Nova Scotia database.
The free public viewer version comes with the large interactive map viewer window (with typical online mapping tools, such as zoom, pan, information and measure), a civic search tool with drop down style selection and also a second search tool with free style selection criteria. They have made the online map really simple to use so that almost anyone in the general public with an Internet connection can make use of it.
After searching for a particular property civic address, the map window gets populated with a zoomed in map of the surrounding area, showing common roads, waterways and properties. The civic centroids are shown as small red squares, with currently selected civic address shown highlighted as a green circle. Using the information tool can then provide the basic public information for that point. One can then print the map they have configured in the browser.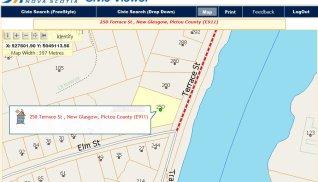 More details on the online tool can be obtained from the Access Nova Scotia  web site.
The Access Nova Scotia Civic Viewer free public version has very limited ability to do much more then provide basic information about a civic address but then again that can often be all that one is really looking to achieve sometimes.
The information obtained from the simple viewer can then be used to contact a local municipality office to obtain more detailed information about that address such as property information. You can also use it with other similar Nova Scotia online viewers such as the Nova Scotia's Online Property Assessment Information online tool to gather more information about it.
Share:
Rate: