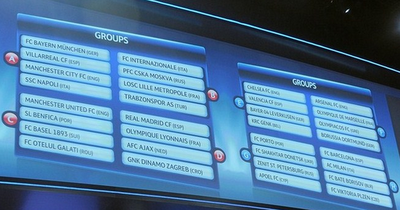 The Champions League this year has a very different feel to it. We have the omnipresent Barcelona who look ready to conquer the trophy yet again, now faced with AC Milan in their group of the Champions League group stages. While the past few seasons haven't been the best for AC Milan, the rossoneri have strengthened and seem prepared to make a strong run in Europe this upcoming season.
Along with the Spanish and Italian champions, Bate Borisov and Viktoria Pizen have been drawn together in Group H. So it seems that the Catalans and Milan should have few problems qualifying for the knockout stages of the tournament.
If there is a group of death from the draw, it would have to be the one composed of Napoli, Bayern Munich, Villarreal and Manchester City. All four sides have clear intentions on advancing to the knockout stages, and it looks to be a very tight battle for who will come out on top of the group. While maybe Bayern Munich have more experience in the competition, Manchester City can't be underestimated, and neither can Villarreal and Napoli.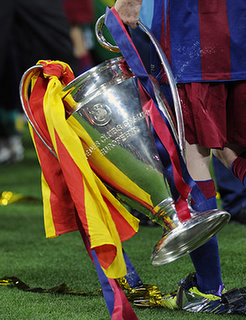 The cup that everyone is after...
Here are all of the groups of the this season's Champions League:
Group A
Manchester City
Bayern Munich
Villarreal
Napoli
Group B
Inter Milan
CSKA Moscow
Lille
Trabzonspor
Group C
Manchester United
Sporting Lisbon Benfica
FC Basel
Otelul Galati
Group D
Real Madrid
Olympique Lyonnais
Ajax
Dinamo Zagreb
Group E
Chelsea
Valencia
Bayer Leverkusen
FC Genk
Group F
Arsenal
Olympique Marseille
Olympiacos
Borussia Dortmund
Group G
FC Porto
Shakhtar Donetsk
Zenit St. Petersburg
Apoel FC
Group H
Barcelona
AC Milan
Bate Borisov
Viktoria Pizen
There are some very tricky groups from this draw, especially Group F, where Arsenal will have to compete with Marseille, Olympiacos and the German champions Borussia Dortmund for qualification. Another interesting group is Chelsea's, as they'll be playing Valencia and the Blues's new signing, Juan Mata, will be facing his former side. And of course, the constant clash between Real Madrid and Lyon in Group D could be interesting, especially with Ajax and Dinamo Zagreb in the mix for qualification to the knockout rounds.
What are your thoughts on the groups? Which one will be the toughest? Will there be any surprise eliminations? Share your predictions, thoughts, and comments below!