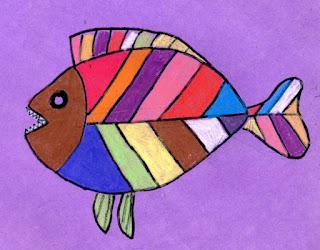 One art concept even young students can embrace is the idea of making an abstract work of art. I like to describe it as coloring just for fun, and not worrying if something looks real or not. A fish is a good shape to work with as students can draw a spine and then add some "bone" lines.

1. Starting with the body, students draw a large football shape that is open on one side. This side is closed by drawing a V-shaped mouth. A curve is added to frame the head, along with a tail and fins and eyes. Lastly, a spine may be drawn across the body and angled lines to imitate the bones.
2. Students trace all the fish lines with a thin black marker.
3. This fish was colored with Crayola Construction crayons, which look great on construction paper. If enough pressure is used, they rival the look of more expensive (and messy) oil pastels.