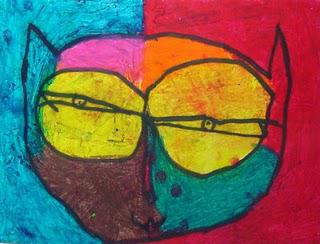 Let me first just say, I adore this piece of art.

It was made recently by a 2nd grader who was struggling with my suggestions of how to draw cat eyes. He said, and I quote, "But Mrs. Barbro, I like to draw my eyes THIS way." That's when I realized that sometimes you just have to step back and let children's art evolve on it's own terms.
If you would like the full
instructions
to this project, go to the "
Laurel Burch Cat Heads" post.