Milan is one of the fashion capitals of the world alongside London, New York and Paris. If you are visiting this fine city in northern Italy you can learn much more about fashion, shop until you drop but also discover that there is so much more to this fine city than fashion.
There is a fairly sophisticated tourist infrastructure in Milan and you will be able to get guides to introduce you to the finest sites so that you can spend further time exploring the things that really interest you. You can even get someone to show you the real fashion district. There is a walking tour based around Via Montenapoleone where you can see a host of fashionable shops and take a closer look without any pressure to buy.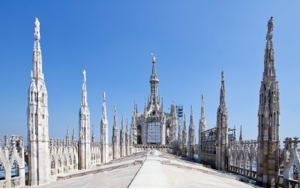 Introductory tours
Tours offer you the chance to see one of the finest churches anywhere in the world Milan Duomo, La Scala the world famous opera house, the San Siro Stadium which is shared by Milan's two soccer giants, AC Milan and Internationale, and a location that is less famous, the Church of Santa Maria delle Grazie.
You can actually visit the San Siro and see the museum chronicling the history and achievements of these great clubs both of whom have been European Champions. Similarly you may want to look behind the scenes at La Scala if your interest is drama and opera. However the jewel in the crown is the church.
Da Vinci
The church may not be famous in itself but its contents most certainly are, Leonardo Da Vinci's the Last Supper is painted on the refectory wall. There are huge crowds wanting to see this masterpiece and the best way to avoid long queues is to go on organised Milan Tours that can get priority for a group. Preservation of the masterpiece has always been a challenge and one of the limits put in place is the restriction of numbers allowed in to look at it at any one time.
Brera
Brera is the district of intellectuals and artists, the equivalent of Paris's Left Bank and close by is a historic fortress, Castello Sforzesco which houses museums and art collections. This is a historical place with literature and antiques at every turn. There are bars and restaurants that you may see on an introductory tour that are worth coming back to experience.
Italians are known for their style and fashion sense and of course for their cuisine. Nowhere are these elements better represented than in Milan. Once you get your bearings you can spend your time exploring fashionable districts, learn more about the history and culture of the city and dine in fine restaurants. City holidays are sometimes not the best way to relax but in Milan you are likely to relax into the lifestyle very easily.
Image attributed to   Freedigitalphotos.net Vichaya Kiatying-Angsulee