By the time Sean Penn shuffled out on the stage of Hollywood's Dolby Theater to present the Best Picture Oscar at this year's Academy Awards ceremony, one of the people I saw live-tweeting the show quickly joked, "And now Mr. Chuckles will bring this home." It had been an overly long ceremony, and Penn's grim, non-smiling face was the perfect target for an increasingly punch drunk Twitter-sphere. And then he prefaced the announcement that Birdman had won Best Picture by adlibbing, "Who gave this son of a bitch his green card?" in reference to the film's director Alejandro Inarritu. You had to quickly remember that Penn is actually friends with Inarritu, who directed him in 21 Grams (2003), and the joke was probably just the ever socially conscious Penn's attempt to ironically reference the on-going immigration debate in America.
It was just another moment when everyone seemed to collectively decide that it's really hard to like Sean Penn. That's coming back around again since his new movie The Gunman is out, with Pajiba finding an old Daily Mail article that detailed Sean Penn's disturbingly rocky, abusive relationship with Madonna in the '80s.
In June 1987, Madonna went to the Cedars Sinai hospital for an X-ray after Penn apparently hit her across the head with a baseball bat. At the time, they had been having a heart-to-heart talk about reconciling.

Madonna did not make an official complaint because Penn was about to serve a short jail term for attacking a film extra. He served 33 days of a 60-day sentence in the Los Angeles County jail (23 hours a day in solitary) for violating the probation he'd been given for punching a fan.

He was released into his wife's arms, only for her to throw him out of a taxi a few hours later after yet another set-to.

Their violent arguments were exhausting for everyone, but Madonna hesitated to admit that the marriage had failed. Though she saw lawyers about getting a divorce, she hung on for a full year to see if it could be saved.

It was a decision she would come to regret. In the late afternoon of December 28, 1989, Penn scaled the wall surrounding the Malibu house and found Madonna alone in the master bedroom.

According to a report filed by Madonna with the Malibu sheriff's office, the two began to quarrel. Penn told her he owned her 'lock, stock and barrel'.

When she told him she was leaving the house, he tried to bind her hands with an electric lamp and cord. Screaming and afraid, Madonna fled from the bedroom. What followed was a nine-hour ordeal which left her deeply shaken.

Penn chased her into the living room, caught her and bound her to a chair with heavy twine. Then he threatened to cut off her hair.

According to the police report, Penn was 'drinking liquor straight from the bottle' and the abuse went on for several hours, during which time he smacked and roughed up his victim.
He went out to buy more alcohol, leaving Madonna bound and gagged. Some hours later, he returned and continued his attacks.

Madonna said that he untied her after she agreed to perform a degrading sex act on him. She then fled the house and ran to her car.

Penn ran after her and was banging on the windows of her Thunderbird while she spoke to police on her mobile phone. Fifteen minutes later, she staggered into the sheriff's office.

Lieut Bill McSweeny said: 'I hardly recognised her as Madonna. She was weeping, her lip was bleeding and she had obviously been struck.'

Penn was taken away in handcuffs and charged with inflicting 'corporal injury and traumatic conditions' on her, as well as committing 'battery'.
Madonna filed for divorce a week later, but she did drop the assault charges.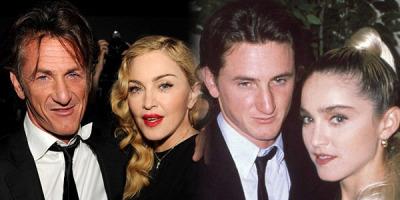 They're apparently friends again
That does all sound truly terrible, but it was also way back in 1989. This is like stepping into the Tardis, popping out in '89, and picking up the National Enquirer to read its cover story about Madonna. Penn hasn't spent hours torturing someone he's tied to a chair lately, although he did strand Woody Harrelson in the middle of nowhere and at night in Australia as his way of winning a prank war during the Thin Red Line portion of his career.
I am writing about this because it poses an interesting question: Do you actually have to like actors to enjoy their work? There is no real answer because it's largely subjective. I know someone who freakishly adores anything and everything Roman Polanski (Rosemary's Baby, Chinatown) just as I know someone who can't get past the whole "He raped a 13-year-old girl!" thing, regardless of how long ago it happened (for the record, it was in 1977). Similar debates rage on in any other area of society which elevates the ordinary to celebrity, such as baseball writers forever getting twisted in knots arguing over whether Ty Cobb should be a legend of Major League Baseball even though he was a ninja-grade racist. Sites like Pajiba and Cracked.com taking a moment to remind us that Sean Penn might be a "violent, abusive, terrible human being" is only natural, but does that knowledge that Penn apparently did that horrible thing to Madonna have any impact on your ability to enjoy The Gunman (this is the part where I should throw in a snarky joke about Gunman being a terrible film anyway, as so many of the reviews indicate, but I haven't actually seen it so I don't how good it is).
That type of thing has weighed on my mind the more read about Going Clear, HBO's Scientology documentary set to premiere this Sunday (3/29). The filmmakers uncovered evidence of the ways in which the Church uses glorified slave labor and sneakily locks people in for life, actively stalking and re-capturing them should they ever leave (the celebrities who have left are too high-profile for that). Their stated goal is to publicly shame Tom Cruise and John Travolta into doing something about it:
One of the reasons we're trying to turn the spotlight on them is not to victimize them, but to really say, 'You have a responsibility. You're given an enormous amount of wealth as a movie star, and with that comes a certain amount of responsibility, particularly when people are joining an organization because of you. And I think if the popular opinion begins to swing in that way, I think you could see a change with them."
Yet Tom Cruise just had a trailer drop for his next Mission Impossible film, depicting him literally hanging from the side of an ascending airplane as a way of outdoing the last film's legendary Dubai skyscraper sequence. The movie comes out at the end of July, and I want to like Tom Cruise. Despite the odd tendency for his laugh to go on just a little too long, he manages to come off as one of the nicest men in the world in most interviews. Is there any way that he doesn't get hounded with questions related to Going Clear while promoting Mission Impossible: Rogue Nation? Won't that make things awkward and potentially difficult to like him?  But if this leads to improved living conditions for hundreds of allegedly abused Scientology members won't it be worth it?
These are frankly far bigger issues than I set out to tackle, as my primary purpose when I started writing this was to share that story about Sean Penn because it's honestly the first time I'd ever heard it.  It certainly makes his green card joke at the Oscars look like small potatoes.  However, now that I know there's apparently a police report out there verifying that Sean Penn did indeed tied up and torment his wife for hours back in 1989 does that mean when I re-watch Mystic River his performance in it will seem any less inspired?